There are 165,888 Ways to Make a Winning Magen David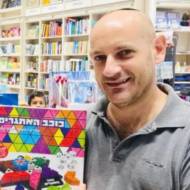 A British immigrant's award-winning puzzle game hits Israel and reminds children "we can always work out a way to come together."
By Pesach Benson, United With Israel
An award-winning logic puzzle game for children has arrived in Israel and is already hitting the shelves of country's toy stores.
Genius Star, created by British immigrant Aron Lazarus, challenges children eight and older to fill in a Magen David-shaped board.
But it's not as simple as it seems.
Each player's star-shaped board is made up of 48 triangles. Dice are rolled to determine the placement of triangle blockers. Players race to fill in the rest of the star with 11 colored wood pieces.  For players seeking a greater challenge, there's also an optional golden star element which raises the level of difficulty.
The game can also be played as a solitary challenge, giving Genius Star all the elements of an addictive game.
Genius Star — which earned Lazarus the prestigious honor of Best Puzzle Game at the American Toy Retailer Awards in 2020 — is already available in 30 countries.
"I was lucky enough to be named the toy industry's Rising Star Inventor of the Year in 2020, but nothing has quite matched the feeling of being able to walk into my local toy store and seeing my game on the shelves alongside household names like Monopoly and Taki. While The Genius Star has achieved significant success abroad, for me it has now come home," Lazarus said.
Lazarus, who moved to Israel from London in 2006, said the game carries a deeper meaning for him than just puzzle-solving.
"The game reminds us that, with all of our differences, and whatever our starting point, we can always work out a way to come together," he said. "It may not be simple, but as The Genius Star proves, there are at least 165,888 ways to make a Magen David. Every way makes you a winner."
Lazarus also created Bee Genius, a similar puzzle game for children three and older, which is supposed to make its Israeli debut in 2022.
PLANT FRUIT TREES IN ISRAEL BEFORE SABBATICAL BEGINS!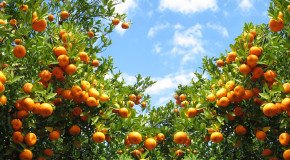 HELP ISRAELI FARMERS PLANT NOW – BEFORE SHMITA!

TIME RUNNING OUT to make the Land even more fruitful while helping Israeli farmers offset financial losses from Covid, Hamas arson fires and the upcoming Sabbatical year.

"…the seventh year shall be a complete rest for the Land…"

"…I will ordain My blessing for you…"
(Leviticus 25:4,21)
CLICK TO PLANT YOUR FRUIT TREES IN ISRAEL TODAY, BEFORE IT'S TOO LATE!
The post There are 165,888 Ways to Make a Winning Magen David first appeared on United with Israel.
United with Israel