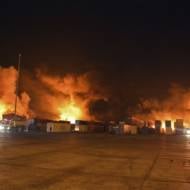 Syrian Media: Israeli Strike on Latakia Port Caused 'Significant' Damage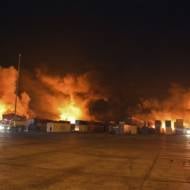 The strike on Syria's main commercial port is the second attributed to Israel this month.
By JNS.org
An Israeli missile strike on the container yard of Syria's main commercial port early on Tuesday caused fires and extensive damage, Syrian state media reported. There were no reports of casualties.
Israel launched a "wave" of missiles at the Latakia port from the direction of the Mediterranean Sea at approximately 3:30 a.m., according to the Syrian Arab News Agency (SANA). The al-Nada Hospital and buildings adjacent to the port also suffered damage, the report stated.
Latakia Fire Brigade Commander Maj. Mohanad Jaafar told SANA that the targeted containers held "oils and spare parts for vehicles and cars." However, according to the U.K.-based group Syrian Observatory for Human Rights (SOHR), the containers held weapons and ammunition. Firefighting teams' efforts to control the blaze at the port were delayed, due to fears of secondary explosions, according to SOHR.
The initial explosions were violent, causing panic among Latakia residents, SOHR reported. The strike caused massive material damage to the port and the buildings and tourist facilities surrounding it, the organization said.
The strike on the port is the second attributed to Israel this month. On Dec. 7, Syrian media reported that an Israeli strike on the port's container yard had sparked a blaze and caused heavy damage. There were no reports of casualties from the attack.
The target of the strike, which caused violent explosions, was a weapons shipment belonging to "Iran-backed militias," SOHR reported at the time.
Tuesday's strike is the 29th attributed to Israel in Syria this year.
On Nov. 24, Syrian media reported that two people had been killed and seven wounded, six of them soldiers, by an Israeli strike in the Homs region. SOHR sources reported four fatalities, two of which were caused by falling debris from the interception of an Israeli missile by Syrian air defenses.
On Nov. 9, Israel reportedly struck a number of targets in the country's central and coastal regions, wounding two Syrian soldiers and causing material damage, while on Nov. 3, Syrian media reported an Israeli strike near the town of Zakiyah in Rif Dimashq.
On Oct. 30, five militia members were reported to have been killed in a strike in the Damascus area, and on Oct. 25, Israel reportedly struck sites in Quneitra Governorate in southwestern Syria.
THE DREAM RAFFLE – Win a Luxury Jerusalem Home!
THE CITY. THE DREAM. THE CHANCE OF A LIFETIME!
Your brand new Million Dollar Jerusalem apartment with an awesome view of the Temple Mount is just a few clicks away.
The keys to a luxury Jerusalem apartment can be yours forever.
And at the same time support great causes like United with Israel!
The Dream Raffle may sound too good to be true… but it is real. Enter now before it's too late!
The post Syrian Media: Israeli Strike on Latakia Port Caused 'Significant' Damage first appeared on United with Israel.
United with Israel