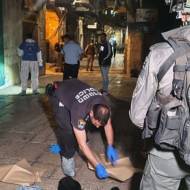 Stabbing Attack in Jerusalem: 2 Wounded, Terrorist Dead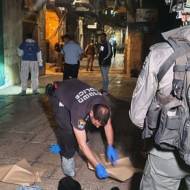 A 20-year-old woman was reported to be in moderate condition and a young man about 20 years old was in mild condition.
By Gil Tanenbaum, TPS and United with Israel Staff
Two people were wounded in a terrorist attack in Jerusalem's Old City on Wednesday afternoon.
A security guard at Ateret Cohanim — a yeshiva located in the Muslim quarter, where the attack took place — eliminated the 16-year-old terrorist, Channel 20 reported.
Magen David Adom and United Hatzalah rescue teams were at the scene. MDA said that it received a report at 5:25 PM local time about 2 young people who were injured in a stabbing incident on Hagai Street in the Old City of Jerusalem.
A 20-year-old woman was reported to be in moderate condition and a young man about 20 years old was in mild condition. The two were sent to Hadassah hospital.
According to the police spokesman's office, the terrorist came to the Old City of Jerusalem, near the Ateret Cohanim yeshiva. It was there that he stabbed the two victims. Two Border Police officers who were on patrol in the area and a civilian security guard, who was at the scene, fired at the terrorist, killing him.
In response to the attack, a significant number of police officers have been called to the scene and are operating in the area at this time.
Joshua Sheetrit, a paramedic stationed on an MDA ATV, senior MDA paramedic Ohavia Sharabi, and MDA paramedic Moshe Tubolsky said, "We joined a police force at the scene that led us to a young man and a young woman who were injured, they were fully conscious and suffered penetrating injuries."
"We provided them with life-saving medical care quickly in the field, put them on MDA's special ATV designed to move through the alleys of the Old City and evacuated them while continuing treatment to team up with MDA intensive care vehicles waiting for us near the Lions Gate."
After holding a situation assessment at the scene of the attack, Channel 13 reported, Superintendent Doron Turgeman, commander of the Jerusalem District, stated:
"The Jerusalem border fighters demonstrated determination and striving for contact with a bloodthirsty terrorist who tried to take their lives in one moment. Another citizen, who was in the area and assisted in the joint effort to neutralize the terrorist, also deserves praise..
"This attack is another reminder of the variety of threats that the Jerusalem District Police and border guards in the Old City and in general bravely face. We will continue to act resolutely against terrorist threats and against anyone who tries to harm police or civilians."
Bring Chanukah Joy to Israeli Soldiers – Send Winter Care Packages!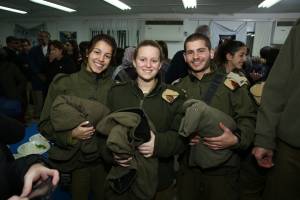 We are honored to thank the young men and women of the IDF who risk their lives every day to defend the citizens of Israel.
Join us in sending holiday care packages and personal notes of support to Israeli soldiers who are out in the cold all day.
Warm up a soldier's heart with essential winter wear including fleece jackets, hats, gloves and more. Keep an entire unit warm!
THE SOLDIERS REALLY APPRECIATE YOUR LOVE AND CONCERN!
Click Here to Send Your Gift and Personal Note to Israeli Soldiers
The post Stabbing Attack in Jerusalem: 2 Wounded, Terrorist Dead first appeared on United with Israel.
United with Israel