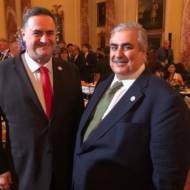 Skies Open for Israel: Bahrain Joins Saudis in Welcoming Israeli Planes in Airspace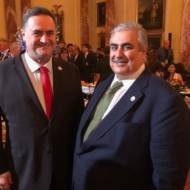 Gulf Arab nation joins Saudi Arabia in moving closer to ties with the Jewish state.
By Yakir Benzion, United With Israel
Bahrain is the latest Gulf Arab state to allow Israeli flights through its airspace as momentum from the Israel-UAE peace deal continues.
"Bahrain will allow all flights coming to and departing from the United Arab Emirates (UAE) to all countries to cross its airspace," the country's transportation ministry announced in a statement published Thursday by the state-run Bahrain New Agency.
That move came at a request from the UAE, and echoes the decision by Saudi Arabia this week to open its skies to flights to and from Israel that had previously been banned.
It's another huge step in the move to normalize relations with more Arab states following the announcement last month by President Trump of the breakthrough deal that will see Israel and the UAE sign a peace deal at the White House in the coming weeks.
The UAE becomes the third Arab nation to make peace with Israel following Egypt and Jordan and both Prime Minister Benjamin Netanyahu and Secretary of State Mike Pompeo said that other states may follow.
Pompeo visited the region this week and held talks not just in Jerusalem and the UAE, but also in Sudan, Bahrain and Oman – three countries mentioned as possible next moves.
On Monday the first ever El Al flight landed in the UAE carrying a joint Israeli-American delegation, with the U.S. team headed by President Trump's senior adviser and son-in-law Jared Kushner.
That flight was given permission to use Saudi airspace and afterwards the Saudis officially announced they were allowing flights from all countries to fly over the country.
Although the announcements from Saudi Arabia and Bahrain did not mention the word "Israel," it was clear that the two countries have given their approval for the breakthrough peace deal between Israel and the UAE that the Americans helped bring about.
The news is a huge development for air travelers to Israel because flights to many destinations in Asia took hours longer in order to divert around the Arab Gulf states.
Prime Minister Benjamin Netanyahu welcomed Saudi Arabia's decision. "Another huge breakthrough – Israeli planes and planes from all countries will be able to fly directly from Israel to Abu Dhabi, Dubai and back. It will lower costs on flights, it will shorten time, it will develop tremendous tourism, it will open our economy," he said.
Netanyahu also said "it will open the East. When you fly to Thailand or anywhere else in Asia, it will shave off hours and prices. A huge message to you, citizens of Israel. These are the fruits of peace – of true peace."
HELP ISRAELIS BATTLE CORONA!
Donate to the Corona Emergency Relief Fund. Coronavirus has taken a huge toll on the people of Israel. The poor, elderly and ill are most vulnerable.

Israeli soldiers, security officers and medical care providers operate under great danger and risk to life.

Over 1 million Israelis are out of work. Many cannot make ends meet. We provide financial aid, food, medical supplies and more. Funds are distributed where needed most. The time to act is now!

United with Israel