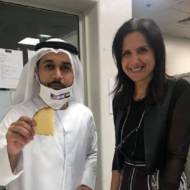 Side Order of Peace: Dubai Hotel is First to Offer Kosher Food in UAE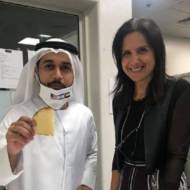 Dubai hotels see the market potential and are preparing to attract Jewish guests who keep kosher.

By Yakir Benzion, United With Israel
A United Arab Emirates hotel operator has jumped at the opportunity to push business with Israel and is the first to offer kosher food to its guests, the Saudi Arabia-based Arab News English-language newspaper reported Thursday.
The Al-Habtoor Group said It is partnering with the local company Elli's Kosher Kitchen, which is one of the few, if not only kosher caterers in the Gulf Arab states.
Elli's owner Elli Kriel moved to Dubai from South Africa with her family six years ago and said that she realized that there was a lack of kosher catering in Dubai, especially for Jewish travelers passing through who wanted kosher food.
"So, I decided to create Elli's Kosher Kitchen to provide home cooked, delicious kosher meals for them," she said.
The contract to supply the hotels shows now the UAE and Israel are about to sign a peace deal Jewish travelers, especially Israelis, will be coming to the UAE and not just passing through, but staying for business and vacation trips.
While originally getting certification from the South African Beit Din, Kriel recently received her kosher license from the American Orthodox Union (OU) board.
"This is historic in itself!" Kriel posted on her Facebook page along with a copy of the new kashrut certificate.
Kriel calls her style of cooking Kosherati, which she defines as kosher cooking with an Emirati twist.
Hotels offering Kosher Catering will include Hilton Dubai, V Hotel, Habtoor Palace Dubai, LXR Hotel and Resorts, Habtoor Grand Resort, Autograph Collection LLC, Metropolitan Hotel and Habtoor Polo Resort.
On Monday the first El Al passenger flight from Israel landed in the UAE after receiving permission from Saudi Arabia to use its airspace – another first and a sign of Saudi approval of the upcoming peace agreement that is schedule to be signed by the leaders of Israel and the UAE later this month at the White House.
HELP ISRAELIS BATTLE CORONA!
Donate to the Corona Emergency Relief Fund. Coronavirus has taken a huge toll on the people of Israel. The poor, elderly and ill are most vulnerable.

Israeli soldiers, security officers and medical care providers operate under great danger and risk to life.

Over 1 million Israelis are out of work. Many cannot make ends meet. We provide financial aid, food, medical supplies and more. Funds are distributed where needed most. The time to act is now!

United with Israel