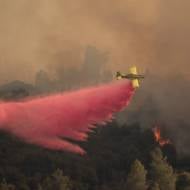 Satellite Images Show How Jerusalem Forest Fire Was Caused By Arsonists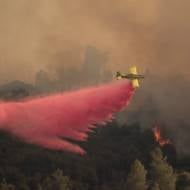 NASA satellite images obtained by Ynet show three fires in distant locations started simultaneously. 
By Pesach Benson, United With Israel
Israel's largest forest fire in a decade was almost certainly caused by arson, according to NASA satellite images obtained by Ynet. Meanwhile, firefighters returned to the hills outside Jerusalem on Thursday after one fire reignited.
A statement by the Israeli Fire and Rescue Service said the fire, located on Har Eitan between Hadassah Hospital and Givat Yearim, was contained. Har Eitan was the site of some of the heaviest fires of the week. Kan News reported it was not a fresh conflagration.
The NASA images indicate that three fires in distant locations erupted at the same time — on Sunday at 3:00 PM.
Amitai Dan, an information security researcher and intelligence analyst, told Ynet the distance between each of the focal points of the three fires was roughly four kilometers (2.4 miles).
Further raising the likelihood of arson, a joint investigation by the police and the Fire and Rescue Authority found that the focal point of the fire by Beit Meir was "in a place full of brushes and thorns and regular tourists are unlikely to pass through it," Ynet reported.
According to Ynet, police are using triangulation technology to determine if and where any smartphones were in those areas when the fires broke out.
The blaze consumed 25,000 dunams (more than 6,000 acres) of forest and brushland west of Jerusalem, a larger swath of destruction than the Mt. Carmel forest fire of 2010. The fires raged for 52 hours before the 1,500 firefighters finally got them under control on Tuesday. Four firefighting teams sent by the Palestinian Authority assisted the Israelis.
The fire forced the evacuation of Ein Kerem, Givat Yearim, Ramat Raziel, Kibbutz Tzova, Ein Nakuba, Beit Meir, Shoresh, Eitanim, Ein Rafa and Shoeva.
PLANT FRUIT TREES IN ISRAEL BEFORE SABBATICAL BEGINS!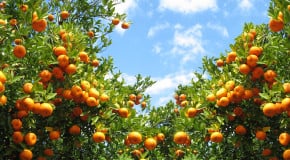 HELP ISRAELI FARMERS PLANT NOW – BEFORE SHMITA!

TIME RUNNING OUT to make the Land even more fruitful while helping Israeli farmers offset financial losses from Covid, Hamas arson fires and the upcoming Sabbatical year.

"…the seventh year shall be a complete rest for the Land…"

"…I will ordain My blessing for you…"
(Leviticus 25:4,21)
CLICK TO PLANT YOUR FRUIT TREES IN ISRAEL TODAY, BEFORE IT'S TOO LATE!
The post Satellite Images Show How Jerusalem Forest Fire Was Caused By Arsonists first appeared on United with Israel.
United with Israel