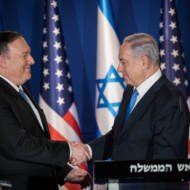 Pompeo: Four Years of Success in US-Israel Ties, Unprecedented Achievements Under Trump Administration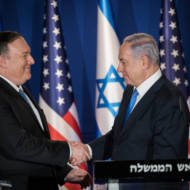 Outgoing Secretary of State Pompeo summarizes the four years of success in the US-Israel relationship.
By Yakir Benzion, United With Israel
Secretary of State Mike Pompeo took time out during his final week in office to shout out the special friendship between the United States and Israel, summarizing the achievements during the Trump administration and pointing out the bipartisan nature of the shared values between the two allies.
"You can tell a lot about a nation from its friends. We embraced the only nation in the Middle East that respects democracy, the rule of law, human rights, and freedom. Long may it ever be so," Pompeo tweeted in a series of comments summing up the Trump Administration's special relationship with the Jewish State.
"America has no greater friend than Israel and the people of Israel," Pompeo said. "No administration has done more to partner with the Middle East's most vibrant and tolerant democracy, Israel, than we have."
Pompeo also praised Prime Minister Benjamin Netanyahu's leadership, saying: "Faith matters. History matters. Democracy Matters." He tweeted pictures of himself and Netanyahu at the Western Wall of the ancient Jewish Temple and inside Jerusalem's Church of the Holy Sepulchre.
"Thank you PM @Netanyahu for all that you do to secure freedom and religious liberty in your country and in your region. You are a good and great friend."
The Secretary listed the top achievements in the past four years, starting with the decision to finally put into place an act of Congress that recognized Jerusalem as Israel's capital and moved the embassy from Tel Aviv to Jerusalem despite objections that it could spark a new Middle East war.
"Foreign policy elites predicted the world would end if we moved our Embassy to Jerusalem, the eternal capital of the Jewish people and the State of Israel since the country's founding. We did it anyway. No WWIII. Sky still above us," Pompeo tweeted. He noted the administration also overturned a longstanding State Department rule that refused to allow American citizens born in Jerusalem to have their birthplace as "Israel" rather than "Jerusalem" – they now have the choice.
Other decisions during his tenure included American recognition of Israeli sovereignty over the Golan Heights and declaring that "Israeli settlements in Judea and Samaria are not ​per se inconsistent with international law" – invoking American policy dating from the Reagan Administration. New State Department guidelines ensured that products made under Israeli authority in Judea and Samaria can now be be labeled "Made in Israel."
Pompeo also called out the problems in resolving the conflict with the Palestinians, noting that the United Nations Relief and Works Agency that that inflates the number of Palestinian refugees to 5 million is a major obstacle to peace.
"Taxpayers deserve basic truths: most Palestinians under UNRWA's jurisdiction aren't refugees, and UNRWA is a hurdle to peace. America supports peace and Palestinian human rights; UNRWA supports neither. It's time to end UNRWA's mandate," he said.
"We suspended funding to UNRWA, which is riddled with waste, fraud & concerns of support to terrorism. UNRWA is not a refugee agency; it's estimated 200,000 Arabs displaced in 1948 are still alive and most others are not refugees by any rational criteria."
And in what he called just "more common sense," in 2018 the State Department designated Hamas Political Bureau leader Ismail Haniyeh as a terrorist. "Because he is," Pompeo said.
In the battle against anti-Semitism, Pompeo held the first-ever U.S. conference to fight online hate noting that Iran is one of the biggest sources, where its leaders continuously call for "death to Israel" and promote hatred of the Jewish state.
Pompeo took pride that President Trump extended Title VI of the Civil Rights Act to protect Jewish American students, who face increasing harassment in schools and on college campuses, and ruled that the anti-Israel Boycott, Divestment and Sanctions (BDS) campaign is a manifestation of anti-Semitism.
In what appeared to be a parting a message for the incoming Biden administration, Pompeo tweeted that "No Administration has done more to bring lasting peace to the Middle East than that of President Trump," after Trump successfully brokered new peace agreements between Israel and four Arab states: the United Arab Emirates, Bahrain, Sudan and Morocco.
"The recipe for Middle East peace is clear. Support friends and true partners, confront enemies, reject appeasement, aid those in need. Make room for peace under America's protective umbrella." Pompeo stated.
Keep Israeli Soldiers Warm – Send Winter Care Packages!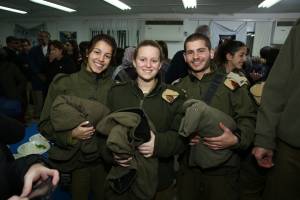 We are honored to thank the young men and women of the IDF who risk their lives every day to defend the citizens of Israel.
Join us in sending winter care packages and personal notes of support to Israeli soldiers who are out in the cold all day.
Warm up a soldier's heart with essential winter wear including fleece jackets. Keep an entire unit warm by ordering 10 packages…
THE SOLDIERS REALLY APPRECIATE YOUR LOVE AND CONCERN!
Click Here to Send Your Gift and Personal Note to Israeli Soldiers
The post Pompeo: Four Years of Success in US-Israel Ties, Unprecedented Achievements Under Trump Administration first appeared on United with Israel.

United with Israel