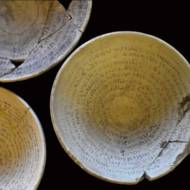 Police Seize Ancient Bowls Inscribed With Magic Spells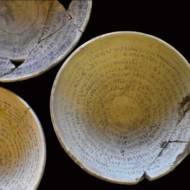 Inscriptions were meant to provide magical protection from curses, demons, disease and pests.
By Pesach Benson, United With Israel
Israeli Police working with the Israel Antiquities Authority uncovered ancient bowls with inscriptions for magical spells and other artifacts from a residential home in Jerusalem, authorities announced on Monday.
The IAA and police said they also recovered hundreds of antique coins, glassware and weaponry.
According to Hebrew media reports, the suspect, who lives in Jerusalem's Ramat Shlomo neighborhood, has been indicted on a number of charges related to illegal trafficking in antiquities.
The IAA said the artifacts appear to be made of bone and ivory, with some apparently dating back to the biblical period.
The biggest buzz came from three incantation bowls with Babylonian-Aramaic inscriptions. The IAA explained that the inscriptions were meant to provide magical protection from curses, demons, disease and pests. The bowls were typically buried under the floor for protection.
Amir Ganor, head of the Antiquities Authority's Robbery Prevention Unit, said the bowls apparently originated in Mesopotamia, now Iraq.
"The text was written by artists for a specific client, according to their personal needs," Ganor explained. "Occasionally, as can be seen in one of the bowls, a figure of the 'night' demon, was painted in the center of the bowl, representing the individual that the bowl was meant to ward off. In 2003, following the war in Iraq, thousands of stolen 'incantation bowls' began to enter international trade markets."
IAA officials believed some of the other finds were illegally excavated in Samaria.
Documents found in the house led authorities to an auction house in central Israel where the suspect presumably sought to sell the artifacts. Additional antiquities were seized there.
Tools and chemicals used to restore antiquities were also found in the suspect's home.
Do You Love Israel? Make a Donation to Show Your Support!
Donate to vital charities that protect Israelis and help inspire millions around the world to support Israel too!
Now more than ever, Israel needs your help to fight – and win – the battle of public opinion.
Anti-Israel bias and boycotts are out of control. Israel's enemies effectively use social media to incite brutal terror against innocent Israeli civilians. Please help us fight back!
The post Police Seize Ancient Bowls Inscribed With Magic Spells first appeared on United with Israel.
United with Israel