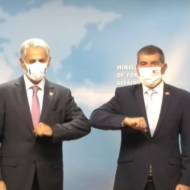 'Peace, Prosperity, and Friendship': Israel Signs 3 Agreements During Bahraini Minister's Visit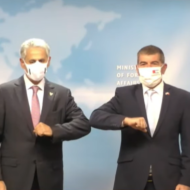 Israel and Bahrain signed three deals to boost trade and tourism in the latest example of quickly growing ties between Israel and Gulf states.
By Yakir Benzion, United With Israel
Bahrain and Israel are racing to boost ties and promote peace between the two countries, signing three new memorandums of understanding during a visit to Jerusalem by Bahrain's Minister of Industry, Commerce and Tourism.
"We've signed some agreements. We have more to go, and more importantly, I think we understand this is a real peace—a peace between our peoples, a peace that will open economic benefits that were unimaginable just a few months ago, but now are coming to be," Prime Minister Benjamin Netanyahu told his guest, Zayed bin Rashid Al-Zayani, at a press conference Wednesday.
"This is the day when we realize peace, because of the courageous decision made by King Hamad [of Bahrain], because of the extraordinary energy and initiative of Bahrainis and Israelis who are eager to embrace one another, to get to know one another, to do business with one another, in tourism and commerce and industry," Netanyahu said.
Minister Al-Zayani did not hide the excitement surrounding the establishment of ties with the Jewish State, telling Netanyahu he was "very happy to be here in your office and your country. We have experienced a lot of good intentions since we arrived," adding that in Bahrain they know that "the whole world is watching" to see the two sides build peace.
"The steps we are building today are everlasting steps for future generations," Al-Zayani said. "We feel we are paving a new future for future generations to leave this world a better place for them than we have inherited … We are genuine about this. We are fully committed."
Al-Zayani held talks with his three Israeli counterparts in Israel's economy, regional development and tourism ministries. During a two-day visit to Israel, the Bahrain delegation signed agreements to develop joint business ventures, exchange information in several fields and form working groups to develop economic and commercial co-operation, especially in tourism.
The Bahraini minister pointed out to the Palestinians that signing more co-operation agreements with Israel "will contribute positively to pushing Israeli-Palestinian relations, more joint projects and commercial visits in the coming period."
"We are keen to work together in various sectors, especially in economic and tourism sectors, where we seek to build bilateral partnerships," Al-Zayani said. "The signing of memorandums of understanding in many fields will lead to achieving economic prosperity for Bahrain and Israel, thereby ensuring more stability in the region."
THE DREAM RAFFLE – Win a Luxury Jerusalem Home!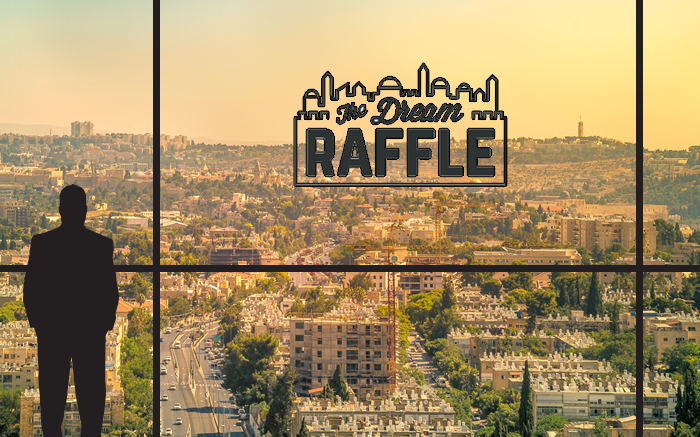 THE CITY. THE DREAM. THE CHANCE OF A LIFETIME!
Your brand new Million Dollar Jerusalem apartment with an awesome view of the Temple Mount is just a few clicks away.
The keys to a luxury Jerusalem apartment can be yours forever.
And at the same time support great causes like United with Israel!
The Dream Raffle may sound too good to be true… but it is real. Enter now before it's too late!
The post 'Peace, Prosperity, and Friendship': Israel Signs 3 Agreements During Bahraini Minister's Visit first appeared on United with Israel.

United with Israel