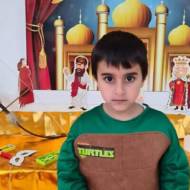 Palestinians Kill 5-Year-Old in Wave of Deadly Rocket Attacks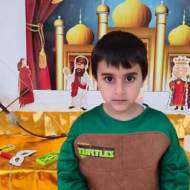 A rocket fired by Hamas at the city of Sderot on Wednesday evening hit a building, killing five-year-old Ido Avigal and seriously injuring his mother.
By TPS
Sirens sounded throughout Wednesday night in southern, central and northern Israel, including in the Lower Galilee and the Jezreel Valley, as Hamas continued its massive rocket onslaught targeting Israeli civilians, cities and towns.
A rocket fired by Hamas at the city of Sderot on Wednesday evening hit a building, killing five-year-old Ido Avigal and seriously injuring his mother, who is now on life support. His sister was treated for light injuries, and his cousin was also seriously injured.
Despite the Iron Dome's all-over success, direct hits were registered in several locations across the country, including in the city of Rishon Lezion.
Early Thursday morning, a rocket exploded in Petah Tikvah in the center of the country, wounding one person moderately and several others lightly. The IDF's Search and Rescue was one site to help rescue the victims.
Gaza-based terrorists have fired over 1,500 rockets at Israel since Sunday night.
the Israeli Air Force (IAF) continued its campaign to uproot Hamas' vast terror infrastructure, and its jets hit dozens of terror targets in the Strip, including ones of strategic significance.
Hamas' main bank, its counterintelligence headquarters, and the office of the chief of staff of Hamas' internal security were all bombed.
The IAF bombed the house of Iyad Tayeb, a Hamas battalion commander whose home served as a terrorist infrastructure.
In addition, a number of members of the organization's naval force were eliminated, as well as two rocket launch pads ready to fire at Israel.
A Hamas terrorist tunnel which was located under a school and near other civilian buildings was bombed.
"The Hamas terrorist organization deliberately places its military assets in the heart of the civilian population in the Gaza Strip. The IDF takes precautions to minimize possible harm to civilians during its military activities," the IDF stated Thursday morning.
In total, the IAF hit 600 terror targets in Gaza since the commencement of Operation Guardian of the Walls.
The Gaza Ministry of Health claims that 67 people had been killed so far as a result of IDF attacks. The majority of the deaths are those of terrorists, including several senior officers and key officials.
Prime Minister Benjamin Netanyahu chaired a Cabinet meeting on Wednesday, which unanimously voted to continue and expand the attack on Hamas.
Seven people, six Israelis and a woman with Indian citizenship, have been killed by Hamas' rocket attacks.
The Ben Gurion Airport was shut down completely on Thursday morning, and over one million Israeli children stayed home as schools remained closed in most of the country.
Estimates say that the operation will last at least another week.
Israelis are Under Attack. Support Israel Today!
Want to help to people of Israel? Make a donation to help protect Israelis against Palestinian rockets and terror.

"It's a war"! Israel is under massive attack. Rockets falling. Arabs rioting. Thousands of explosions. Israelis being killed and injured. Sirens blare, only seconds to run for cover.

To fight terror and protect Israeli citizens, UWI provides bomb shelters, anti-terror and security equipment, emergency medical assistance, relief to victims' families and much more.
Help Israel to fight and win the war against terror. The time to act is now!
The post Palestinians Kill 5-Year-Old in Wave of Deadly Rocket Attacks first appeared on United with Israel.
United with Israel