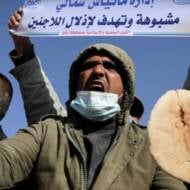 Palestinians' .6 Billion UN Agency on the Rocks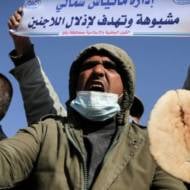 Palestinians would rather have diminished support from the UNRWA than better services from other UN agencies. Why?
By Pesach Benson, United With Israel
UNRWA officials triggered widespread Palestinian anxiety by suggesting that many of the services it provides to its exclusively Palestinian constituents could be outsourced to other UN agencies.
The UN Relief and Works Agency (UNRWA) was created in 1949 to funnel aid to Palestinians, the only "refugee" population that has its own dedicated UN agency. All other refugee populations are supported by the UN High Commissioner for Refugees.
Israel has long accused the UNRWA of perpetuating Palestinian poverty and antisemitism, rather than working to permanently resolve their status.
With the UNRWA facing a continuing funding crunch, the agency's Commissioner-General Philippe Lazzarini suggested in March that other UN agencies help out with services such as deliveries of food and medicine, and providing educational, medical and social services to Palestinians.
In Lebanon, Jordan, Syria, Gaza and Judea and Samaria, people who identify as Palestinians live in UNRWA-administered zones and facilities. UNRWA operates with a 2022 budget of $1.6 billion and employs 30,000 people.
A primary reliance "on voluntary funding from donors would not be reasonable" going forward, Lazzarini said in a statement. "One option that is currently being explored is to maximize partnerships within the broader UN system."
A UNRWA spokesperson told Agence France Presse that the agency is facing a $100 million shortfall that will likely worsen due to "the increased cost of commodities and food that the ongoing Ukraine crisis has provoked."
But Palestinian Authority and Hamas officials and other activists quoted by AFP bristled at Lazzarini's suggestion, claiming the idea was precursor to dismantling the UNRWA.
Palestinian prime minister Mohammad Shtayyeh said the plan would "violate" the UN resolutions while senior Hamas official Mohammad al-Madhoun described Lazzarini's suggestion as "an attempt to dismantle UNRWA as a prelude to ending its work."
Muhammed Shehada, of the Swiss-based Euro-Mediterranean Human Rights Monitor, insisted to AFP that any "de-prioritization" of the agency would be seen as diminishing "the Palestinian cause in general."
Based on these statements, it appears that Palestinian leaders would rather have diminished support from UNRWA than better services outsourced to other agencies.
One of the key points of controversy between Israel and the UNRWA is the agency's definition of "refugees." According to the UNRWA, refugees and their descendants qualify for refugee status, even if they have gained citizenship somewhere else.
That's inconsistent with the UN High Commissioner for Refugees, whose definition is based on the 1951 U.N. Convention and Protocol Relating to the Status of Refugees. According to Article I(c)(3) a person is no longer considered a refugee if, for example, he or she has "acquired a new nationality, and enjoys the protection of the country of his new nationality."
A confidential State Department report put the true number of Palestinian refugees at 30,000, a fraction of the over 5 million Palestinians that UNRWA classifies as "refugees," which has led to accusations that the agency grossly inflates the actual number of Palestinian refugees in the world.
Do You Love Israel? Make a Donation to Show Your Support!
Donate to vital charities that protect Israelis and help inspire millions around the world to support Israel too!
Now more than ever, Israel needs your help to fight – and win – the battle of public opinion.
Anti-Israel bias and boycotts are out of control. Israel's enemies effectively use social media to incite brutal terror against innocent Israeli civilians. Please help us fight back!
The post Palestinians' $1.6 Billion UN Agency on the Rocks first appeared on United with Israel.
United with Israel