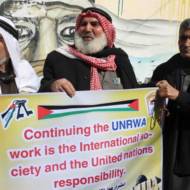 Palestinian UN Agency Cries Poor While Terror Salaries Flow Freely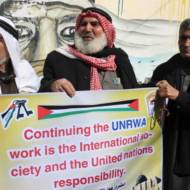 Hamas and Palestinian Islamic Jihad continue to pour hundreds of millions of dollars into terror infrastructure, weapons, and training, despite the coronavirus pandemic's threat to public health.
By United with Israel Staff and AP
The U.N. agency designated specifically for Palestinians (UNRWA) says it's experiencing a financial crisis that could force it to halt some services, the head of the agency, Philippe Lazzarini, said Wednesday.
The agency said in an interview with The Associated Press in Beirut that the spread of coronavirus, an economic meltdown in Lebanon and a huge deficit in UNRWA's budget are deepening the hopelessness among Palestinians.
Meanwhile, Hamas and Palestinian Islamic Jihad continue to pour hundreds of millions of dollars into terror infrastructure, weapons, and training.
These terror groups collect huge checks and cash from countries like Qatar and Iran and squander it on things like the barrage of rockets that terror factions launched at Israel as it signed peace agreements with the United Arab Emirates and Bahrain at the White House on Wednesday.
UNRWA, for its part, had its budget from the U.S. slashed after a massive scandal in 2018-2019 that involved sexual misconduct, nepotism, and abuse of power. UNRWA Commissioner-General Pierre Krahenbuhl resigned amid an investigation, with Switzerland, the Netherlands and Belgium suspending payments to the agency at the time.
The U.S. also flagged the Palestinians' ongoing pay-for-slay policy, under which both the Palestinian Authority and Hamas pay violent terrorists, including murderers, and their families monthly stipends as compensation for committing heinous crimes.
The U.S. gave $360 million to UNRWA in 2017, but only $60 million in 2018, and nothing last year or so far this year.
U.S. President Donald Trump said in January 2018 that the Palestinians must return to peace talks with Israel to receive U.S. aid money. He has since put forth a plan for resolving the conflict that would provide the Palestinians $50 billion in economic incentives, which they have rejected in no uncertain terms.
The Palestinian terror salary policy violates both U.S. law and Israeli law, but the PA and Hamas have expressed their unequivocal commitment to paying terrorists and the families of those who are killed in the process of attacks.
HELP ISRAELIS BATTLE CORONA!
Donate to the Corona Emergency Relief Fund. Coronavirus has taken a huge toll on the people of Israel. The poor, elderly and ill are most vulnerable.

Israeli soldiers, security officers and medical care providers operate under great danger and risk to life.

Over 1 million Israelis are out of work. Many cannot make ends meet. We provide financial aid, food, medical supplies and more. Funds are distributed where needed most. The time to act is now!

United with Israel