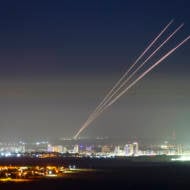 Palestinian Rockets in May Killed Civilians in Israel AND Gaza, Says Human Rights Watch Report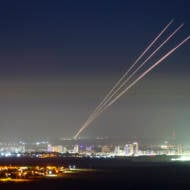 "Indiscriminate attacks by Gaza-based armed groups are war crimes," the watchdog stated Thursday.
By United with Israel Staff
Rocket and mortar attacks launched by Palestinian terror groups during the Hamas-Israel fighting in May "violated the laws of war and amount to war crimes," Human Rights Watch said in a new report released Thursday.
Civilians in Israel as well as in Gaza were killed and wounded by the Palestinian attacks, HRW said.
The watchdog, which has a long history of bias towards Israel, acknowledged in the report that "the Hamas armed wing and other Palestinian armed groups launched rockets and fired mortars toward Israeli population centers that resulted in the deaths of 12 civilians in Israel and injuries to dozens of others. Munitions apparently directed toward Israel that misfired and fell short killed and injured an undetermined number of Palestinians in Gaza."
"Palestinian armed groups during the May fighting flagrantly violated the laws-of-war prohibition on indiscriminate attacks by launching thousands of unguided rockets towards Israeli cities," said Eric Goldstein, HRW's acting Middle East and North Africa director.
"Hamas authorities should stop unlawful rocket attacks toward Israeli population centers," HRW stated.
HRW interviewed 12 people in both Israel and Gaza who had witnessed a Palestinian rocket attack or are relatives of civilian victims of these terrorist attacks.
The watchdog "also determined that a Palestinian rocket that misfired killed seven people in Jabalya in the Gaza Strip on May 10. Human Rights Watch based this finding on witness interviews, site visits, an inspection of rocket remnants, and a review of video footage."
According to the HRW report, "the rockets and mortars that Palestinian armed groups fired lack guidance systems and are prone to misfire, making them extremely inaccurate and thus inherently indiscriminate when directed toward areas with civilians. Launching such rockets to attack civilian areas is a war crime."
PLANT FRUIT TREES IN ISRAEL BEFORE SABBATICAL BEGINS!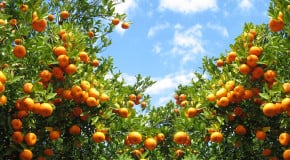 HELP ISRAELI FARMERS PLANT NOW – BEFORE SHMITA!

TIME RUNNING OUT to make the Land even more fruitful while helping Israeli farmers offset financial losses from Covid, Hamas arson fires and the upcoming Sabbatical year.

"…the seventh year shall be a complete rest for the Land…"

"…I will ordain My blessing for you…"
(Leviticus 25:4,21)
CLICK TO PLANT YOUR FRUIT TREES IN ISRAEL TODAY, BEFORE IT'S TOO LATE!
The post Palestinian Rockets in May Killed Civilians in Israel AND Gaza, Says Human Rights Watch Report first appeared on United with Israel.
United with Israel