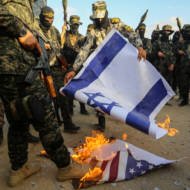 Palestinian Islamic Jihad Threatens 'Call-up' if Hunger Striker Dies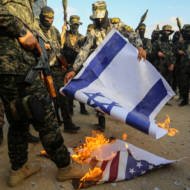 Gaza terror group that fired rockets at Israel last week threatens attacks if hunger striker dies under Israeli detention.
By Yakir Benzion, United With Israel
As the condition of a hunger-striking Palestinian prisoner deteriorated, the Palestinian Islamic Jihad (PIJ) terror group in Gaza announced on Saturday a "general recruitment" of its operatives.
Maher al-Akhras was jailed after being accused of being a PIJ member, but he denies involvement with the terror group. Three months ago, he launched a hunger strike demanding to be released from administrative detention, under which suspected terrorists can be held in jail.
Palestinian Islamic Jihad (PIJ) also released a video showing its members carrying rockets they said they will fire at Israel, warning Israel in the video: "Get ready, we will hit you hard."
Al-Akhras is from the village of Silat Eldahar in the Nablus area of Samaria. He was arrested on July 28, and on August 7 he was placed under administrative detention for four months. He has been on a hunger strike since the day of his arrest and is now being treated at Kaplan Medical Center in the Israeli city of Rehovot.
According to Israeli authorities, Akhras is considered a danger to the state, The Jerusalem Post reported, adding that the Shin Bet (Israel Security Agency) clarified that he has been directly involved in terror activities. This is his sixth arrest.
Last weekend, PIJ fired two rockets at Israel following the announcement that the IDF discovered a major terror tunnel dug under the Gaza-Israel border. Although it is suspected the tunnel belongs to Hamas, PIJ fired the rockets, one of which was intercepted by the Iron Dome defense system; the second exploded in an unpopulated area. There were no injuries reported.
Backed by Iran and considered more radical than the Hamas terror group that seized control of Gaza in a 2007 military coup, PIJ rejects any concept of peace with Israel and wants a military victory in order to declare an Islamic state.
As well as firing thousands of rockets at Israeli towns and cities, PIJ terrorists have carried out waves of suicide bombings over the years that killed hundreds of Israeli as well as several Americans and Canadians.
The terror group is suspected of having about 8,000 active members, and with funding from Iran, it runs charitable organizations to try and attract more followers.
News reports over the years have exposed PIJ activities, including a kindergarten in Gaza where the children celebrate their graduation by dressing up in army uniforms, waving toy rifles and chanting anti-Israel slogans.
"I love the resistance and the martyrs and Palestine, and I want to blow myself up on Zionists and kill them on a bus in a suicide bombing," a child named Hamza said at the ceremony.
HELP ISRAELIS BATTLE CORONA!
Donate to the Corona Emergency Relief Fund. Coronavirus has taken a huge toll on the people of Israel. The poor, elderly and ill are most vulnerable.

Israeli soldiers, security officers and medical care providers operate under great danger and risk to life.

Over 1 million Israelis are out of work. Many cannot make ends meet. We provide financial aid, food, medical supplies and more. Funds are distributed where needed most. The time to act is now!
The post Palestinian Islamic Jihad Threatens 'Call-up' if Hunger Striker Dies first appeared on United with Israel.

United with Israel