One Image Says it All About the Israel-Gaza Conflict: Australian News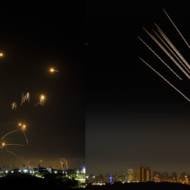 SKY News' Rowan Dean explains how one picture shows just how biased the media is against Israel.
By Yakir Benzion, United With Israel
Sky News host Rowan Dean had enough with phony claims against Israel and said over the weekend that not only is a picture worth a thousand words – he showed that you only need a single photo that tells "everything people need to know about the history and future of the current conflict in Gaza and Israel."
Dean showed a photo of Palestinian terrorists' rockets flying out of Gaza and Israel's Iron Dome defense systme rising up to down them. It is clear from the photo that Palestinians are attacking Israel, and Israel is defending itself.
"On the right-hand side [of the photo], a barrage of deadly missiles supplied by the terrorist Iranian regime to the murderous thugs of Hamas designed to kill Jewish men, women and children as they sleep in their beds," Dean told viewers.
"On the left-hand side of the photo, looking like something out of Star Wars or Close Encounters, you see the Iron Dome, a technological miracle that allows Israel to shoot those Iranian and Hamas rockets out of the sky in a purely defensive act designed to save citizens' lives."
"That is the story of the Gaza conflict and the history of Israel and Palestine. Pretty much everything else you will hear is obfuscation, distortion and lies, laced with the insidious moral relativism of the left, peddled incessantly by the mainstream media and spouted by fools, such as the creepy former leader of Pink Floyd – Roger Waters," said Dean.
"The story of the last 70 years of Israel is summed up in this one photo – a small technologically advanced democracy constantly having to defend itself from vicious assault sponsored by the Arab regimes and Islamist fanatics that surround it," said Dean.
Prime Minister Benjamin Netanyahu over the weekend said the IDF would continue to attack Hamas terror targets, and thanked the many countries that supported Israel's right to self-defense.
"There is a reason for this support because after the reprehensible attacks, such as those in Jerusalem, against Israel's cities, in the attempt to kill innocent Israeli citizens – we have international backing and we are using it, in our natural right to self-defense as well. This is what we did in Gaza," the prime minister said.
attack boxed]
The post One Image Says it All About the Israel-Gaza Conflict: Australian News first appeared on United with Israel.
United with Israel