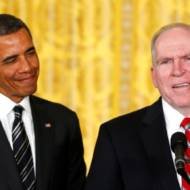 Obama's CIA Director Shocked That Jews Aren't 'Empathetic Champions' of Palestinians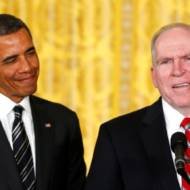 "There's a word for holding Jews to a higher standard than everyone else: It's called anti-Semitism," said Newsweek's Batya Ungar-Sargon, commenting on John O. Brennan's remarks on Israel.
By United with Israel Staff
Obama-era CIA director John O. Brennan was blasted this week for a tweet in which he expressed shock that Israelis are not the "empathetic champions" of Palestinians.
Brennan's tweet read, "I always found it difficult to fathom how a nation of people deeply scarred by a history replete with prejudice, religious persecution, & unspeakable violence perpetrated against them would not be the empathetic champions of those whose rights & freedoms are still abridged."
He fired the tweet off to promote an Israel-bashing piece he penned in The New York Times.
In response, political commentator Ben Shapiro tweeted, "I've always found it difficult to fathom how you aren't in jail."
"[Brennan's] essay dredges up an unverifiable anecdote from 1975," explained pundit and Mideast expert Ira Stoll in The Algemeiner, who summarized Brennan's claims about watching Israeli soldiers discriminate against Palestinians.
Predictably, Brennan's Times piece trots out anti-Israel tropes like "provocative settlement construction" and "oppressive security practices."
Brennan's tweet about Jews failing as "empathetic champions" of Palestinians was blasted on social media.
Stoll provided a roundup of the criticism leveled at Brennan, which came from people on various ends of the political spectrum.
"The lesson of 2,000 years of persecution of the Jewish people is that Israel should live up to John Brennan's moral standards. The level of stupidity and arrogance here is unbelievable," said George Mason University law professor David Bernstein.
Sara Yael Hirschhorn merely tweeted, "Two words: HAMAS rockets."
"There's a word for holding Jews to a higher standard than everyone else: It's called antisemitism," said Batya Ungar-Sargon, an editor at Newsweek, adding, "But there should be a special word for holding Jews to a higher standard than everyone else due to the very persecution and genocide that was inflicted on us throughout history."
"Outrageous. Using Jewish history, including the Holocaust, as a cudgel against Israel is obscene. Jewish history means Israel must take any threat to its existence seriously and rely on itself. Israel needs a Palestinian partner to make peace. Alas, that partner has been MIA since 1947," said CEO of the American Jewish Committee David Harris.
Stoll himself added, "Contrary to Brennan's suggestion, Jews are still victims in various contexts. And contrary to Brennan's assertion, Jews are empathetic — not only to the Palestinians, but to other oppressed minorities around the world."
Do You Love Israel? Make a Donation to Show Your Support!
Donate to vital charities that protect Israelis and help inspire millions around the world to support Israel too!
Now more than ever, Israel needs your help to fight – and win – the battle of public opinion.
Anti-Israel bias and boycotts are out of control. Israel's enemies effectively use social media to incite brutal terror against innocent Israeli civilians. Please help us fight back!
The post Obama's CIA Director Shocked That Jews Aren't 'Empathetic Champions' of Palestinians first appeared on United with Israel.
United with Israel