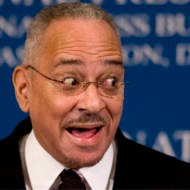 Obama's Anti-Semitic Ex-Preacher Back in the News

Barack Obama's former preacher, who accused Israel of "ethnic cleansing" and defended Louis Farrakhan, is making headlines again amid rising racial tensions in the U.S.
By United with Israel Staff
Jeremiah Wright led a well-known Chicago church that once counted among its members former President Barack Obama, who left the congregation during his 2008 presidential run when a number of Wright's troubling comments were exposed.
"The government gives them the drugs, builds bigger prisoners, passes a three-strike law, and then wants us to sing 'God Bless America,'" intoned Wright in the 2003 sermon revealed during Obama's 2008 campaign. "No no no, not God bless America, God damn America, that's in the Bible, for killing innocent people, God damn America for treating her citizens as less than human, God damn America as long as she tries to act like she is God and she is supreme."
After Obama rejected Wright's comments and won the 2008 election, Wright groused to the press that he had not spoken to his former congregant since he became president.
"Them Jews ain't going to let [Obama] talk to me. I told my baby daughter that he'll talk to me in five years when he's a lame duck, or in eight years when he's out of office," Wright commented to the Daily Press of Newport News after a sermon.
"They will not let him to talk to somebody who calls a spade what it is. … I said from the beginning: He's a politician; I'm a pastor. He's got to do what politicians do."
Wright also accused Israel of "ethnic cleansing" in Gaza.
"Ethnic cleansing of the Zionist is a sin and a crime against humanity, and they don't want Barack talking like that because that's anti-Israel," Wright said.
Wright defended notorious anti-Semite Louis Farrakhan during comments broadcast on a C-SPAN taped event in 2012.
"He's one of the most important voices in the 20th and 21st century," said Wright. "I'm not going to put down Louis Farrakhan any more than [Nelson] Mandela would put down Fidel Castro."
"Louis Farrakhan is not my enemy," Wright added.
Wright is back in the news because a candidate in the special Senate election in Georgia, Rev. Raphael Warnock, defended Wright's "God damn America" comments back in 2008.
"We celebrate Rev. Wright," Warnock told Fox News in March 2008.
On Tuesday, JNS reported, "A Warnock spokesperson told Fox News that the candidate 'deplores and disagrees with any kind of remark that is anti-Semitic or discriminates against anyone.'"
HELP ISRAELIS BATTLE CORONA!
Donate to the Corona Emergency Relief Fund. Coronavirus has taken a huge toll on the people of Israel. The poor, elderly and ill are most vulnerable.

Israeli soldiers, security officers and medical care providers operate under great danger and risk to life.

Over 1 million Israelis are out of work. Many cannot make ends meet. We provide financial aid, food, medical supplies and more. Funds are distributed where needed most. The time to act is now!
The post Obama's Anti-Semitic Ex-Preacher Back in the News first appeared on United with Israel.

United with Israel