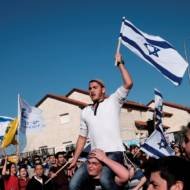 'No Palestinian Terror State on Israeli Land,' Vows Israeli Health Minister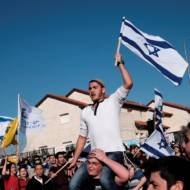 Minister of Health says he will not permit the creation of a Palestinian state on Israeli territory.
By Yakir Benzion, United With Israel
Health Minister Yuli Edelstein visited a factory in Samaria Wednesday where he told the workers there and members of the Yesha Council that he would work hard to oppose the creation of a Palestinian state.
His comments came less than a week after President Trump's surprise announcement that Israel agreed to suspend the application of sovereignty to settlements in Judea and Samaria in exchange for the establishment of diplomatic relations with the United Arab Emirates. It will be the third Arab country to recognize Israel and Prime Minister Benjamin Netanyahu said his previous promise of sovereignty still stands, but will happen in the future.
"A Palestinian state will not be created on our territory in Judea and Samaria. Neighborly relations, 'yes.' Co-existence, 'yes.' Working side-by-side, 'yes,'" Edelstein said in a speech that was broadcast on social media
Speaking at a factory in the Barkan industrial area that makes protective gear for COVID-19, Edelstein reminded those present that he had for years called for normalization of ties with the countries of the region. However, Edelstein said people told him that he didn't know anything about the Middle East, because before that could happen Israel would have to give up lands to the Palestinians and let them form a state.
"And here we have proof that you don't have to do all that in order to reach normalization [with an Arab country]," he said, adding that it proved Israel had to continue with two main points.
"We did not give up on any sovereignty in Judea and Samaria," he said adding that laws should immediately be drafted to complete the application of sovereignty over all of Judea and Samaria. And secondly a Palestinian state "will never happen."
"To create a terror state from which attacks will be launched against Israel is an absurd situation. As an elected official, as a government minister, I won't let us get to that situation," Edelstein said.
HELP ISRAELIS BATTLE CORONA!
Donate to the Corona Emergency Relief Fund. Coronavirus has taken a huge toll on the people of Israel. The poor, elderly and ill are most vulnerable.

Israeli soldiers, security officers and medical care providers operate under great danger and risk to life.

Over 1 million Israelis are out of work. Many cannot make ends meet. We provide financial aid, food, medical supplies and more. Funds are distributed where needed most. The time to act is now!
CLICK HERE TO HELP THE PEOPLE OF ISRAEL TODAY!

United with Israel