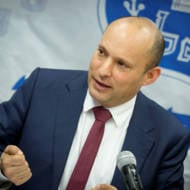 New Israeli PM to Visit White House in July: Report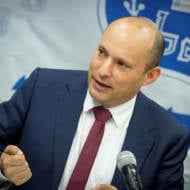 The US and Israel are reportedly in discussions for Prime Minister Naftali Bennett to meet President Joe Biden in Washington in July.
By JNS.org and United with Israel Staff
Israel and the U.S. have reportedly been discussing the first visit by new Israeli Prime Minister Naftali Bennett, Walla News reported Monday.
Israeli officials conveyed to Walla that representatives of Bennett and Biden seek to arrange a visit sooner rather than later.
"An American source claimed that the fact that President Biden called Bennett just two hours after taking the oath of office as prime minister shows how interested the White House is in working with him," i24 News reported.
"The source added that Washington believes that the current Israeli government, which is made up of eight parties with a wide range of ideological views, is an example for other countries where cooperation can exist despite clear political divisions," continued the i24 report.
On Sunday, Israeli Foreign Minister Yair Lapid met with U.S. Secretary of State Antony Blinken in Rome, telling the American diplomat that "mistakes were made" in recent years that damaged bipartisan support for Israel, and that the two would "fix those mistakes together."
Lapid's remarks echoed statements he made shortly after taking office, when he claimed that the administration of former Prime Minister Benjamin Netanyahu had become too close to U.S. Republicans, risking turning Israel into a partisan issue. He called Netanyahu's policies towards Democrats "shameful and dangerous."
While expressing Israel's "serious reservations" about the Iran nuclear deal during his meeting with Blinken, Lapid again made an oblique reference to Netanyahu's approach, saying, "We believe the way to discuss those disagreements is through direct and professional conversation, not in press conferences."
Referring to his upcoming "historic" trip to the United Arab Emirates, which normalized relations with Israel in September of last year, Lapid thanked the U.S. for helping Israel's regional normalization efforts. "I look forward to working with you to widen the circle of peace in our region," he told Blinken.
Blinken said that the Biden administration strongly supports the Abraham Accords normalization agreements. However, he added, "as vital as they are, they are not a substitute for engaging on the issues between Israelis and Palestinians that need to be resolved."
Blinken stressed the importance of reconstructing the Gaza Strip following "Operation Guardian of the Walls," the 11-days of fighting between Israel and terrorist groups in Gaza sparked by Hamas launching rockets at Jerusalem on May 10.
During his two-day trip to the region last month, Blinken vowed to "rally international support" to rebuild Gaza.
Both leaders stressed the "deep, enduring" relations between their countries "based on shared values and interests," but said that disagreements were to be expected.
"We want the same things. We sometimes disagree about how to achieve them," said Lapid.
"We have the same objectives; sometimes we differ on the tactics," Blinken agreed. "And we, I think, are very clear and direct with each other when that's the case. And that's exactly the way it's supposed to be."
JOIN ISRAEL'S MASSIVE SPRING PLANTING OF FRUIT TREES!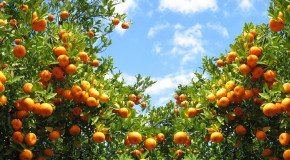 SPRING IS THE BEST TIME TO PLANT YOUR FRUIT TREES!

Make the Land of Israel even more beautiful and fruitful while helping Israeli farmers to recover from financial losses due to COVID-19 and devastating Hamas arson fires.

"…for the Lord your God is bringing you into a good land… a land of wheat and barley, vines, figs and pomegranates, a land of olive oil and honey"
(Deuteronomy 8:7-8)

CLICK TO PLANT YOUR FRUIT TREES IN ISRAEL TODAY!
The post New Israeli PM to Visit White House in July: Report first appeared on United with Israel.
United with Israel