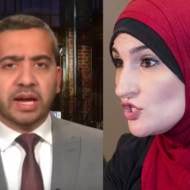 MSNBC Host Adds Fuel to the Fire Amid Geico's Linda Sarsour Scandal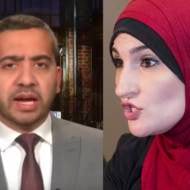 MSNBC's Mehdi Hasan singled out Jewish journalist Bari Weiss when he weighed in on Geico canceling an appearance by Linda Sarsour, who has spread antisemitic falsehoods and slandered Israel.
By United with Israel Staff
Geico Insurance recently cancelled an appearance by anti-Israel mouthpiece Linda Sarsour at its company-sponsored celebration of Middle Eastern and North African Heritage Month.
Sarsour's statements and affiliations have resulted in persistent accusations of Jew-hatred. Geico appeared to heed the requests of Jewish community advocates demanding it sever ties with Sarsour, who has praised antisemitic hate-preacher Louis Farrakhan and insisted that Israel "is built on the idea that Jews are supreme to everyone else."
After Geico cancelled Sarsour's appearance at its event, MSNBC host Mehdi Hasan tweeted, "Never forget that Fox, Bari Weiss, and the rest don't have an issue at all with cancel culture – as long as the people being canceled (Fox literally uses this word in relation to Sarsour in its news story!) are people they don't like or don't agree with."
Bari Weiss is a Jewish journalist who resigned from the New York Times over antisemitism and systemic bias related to Israel and the Jewish community.
In the past, Hasan faced accusations of promoting an anti-Israel agenda.
"[Hasan] tweeted a libelous claim on Saturday about a supposed Israel Defense Forces sniper injuring a Palestinian boy," reported JNS in 2021, citing the media watchdog group CAMERA.
"After being contacted by CAMERA, Hasan published a tweet on Tuesday noting 'conflicting accounts' surrounding the incident and provided a link to a Times of Israel article with more information," added the JNS report.
CAMERA followed up on that incident in a subsequent story, reporting, "Apparently emboldened by MSNBC's failure to broadcast a clarification debunking the grotesque falsehood that Israel is burning down Palestinian villages, a libel which Mehdi Hasan allowed to pass without challenge Feb. 5 on 'All In With Chris Hayes,' the MSNBC host again promotes egregious, unverified anti-Israel smears."
Sarsour, for her part, has spread patently false information related to Jews and Israel, appearing in a video claiming that the Jewish King David was a Muslim. She also characterized Jesus, who was Jewish, as a "Palestinian."
Sarsour falsely accused Israel of ethnic cleansing and promotes BDS, which seeks Israel's destruction.
She also appeared at an event with Rasmea Odeh, a Palestinian who was imprisoned for her role in two terror attacks that killed innocent Israelis, and said she was "honored to be on this stage with Rasmea."
Send Passover Packages to Needy Israeli Soldiers – Bring Them Joy!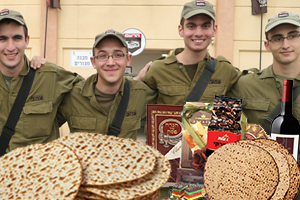 We are honored to thank the young men and women of the IDF who risk their lives every day to protect the freedom of the citizens of Israel.
Join us in sending Passover food packages (and personal notes) to Israeli soldiers and their families

Many soldiers spend the Passover holiday with needy families back home. The soldiers greatly appreciate your love and concern. Bring them Passover joy!
CLICK HERE TO SEND YOUR PACKAGE AND NOTE TO ISRAELI SOLDIERS!
The post MSNBC Host Adds Fuel to the Fire Amid Geico's Linda Sarsour Scandal first appeared on United with Israel.
United with Israel