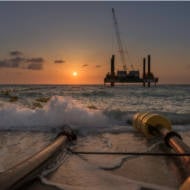 More Natural Gas Discovered Off Israel's Coast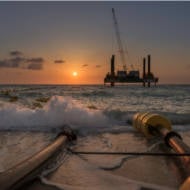 Energean says the 8 billion cubic meters of gas found could be quickly developed.
By Pesach Benson, United With Israel
Significant amounts of new natural gas were discovered off the Israeli coast.
Energean, a exploration company focusing on the Eastern Mediterranean announced on Monday it has found what it estimates to be 8 billion cubic meters in Block 12 of its Athena exploration area.
Hebrew media reports said the size of the find, while significant, was smaller than what Energean had expected.
Athena is one of several gas field that make up the wider Olympus area. It lies between Israel's Karish and Tanin gas fields. Karish is scheduled to come online in the third quarter of 2022. Tanin is due to come online shortly afterwards.
The find marks the first discovery from drilling licenses that were issued in 2017 by then-Energy Minister Yuval Steinitz. It also raises the overall amount of confirmed gas in Israel's offshore Exclusive Economic Zone to 800 billion cubic meters.
The Greek-owned, London-based Energean said Athena could be developed quickly by linking it to a floating production and storage vessel the company plans to use to send gas into the Israeli market from Karish. That vessel, it said, will begin operating in the third quarter of 2022.
The statement also raised the possibility of selling the gas to Egypt.
The announcement comes amid the backdrop of Europe reducing its energy dependence on Russian gas and oil. Turkey is courting Israeli cooperation to develop a pipeline delivering gas to Europe.
Do You Love Israel? Make a Donation to Show Your Support!
Donate to vital charities that protect Israelis and help inspire millions around the world to support Israel too!
Now more than ever, Israel needs your help to fight – and win – the battle of public opinion.
Anti-Israel bias and boycotts are out of control. Israel's enemies effectively use social media to incite brutal terror against innocent Israeli civilians. Please help us fight back!
The post More Natural Gas Discovered Off Israel's Coast first appeared on United with Israel.
United with Israel