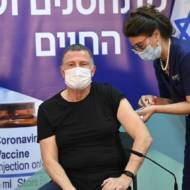 Meaningful Date: Israeli Health Minister Vaccinated on Anniversary of his Soviet Show Trial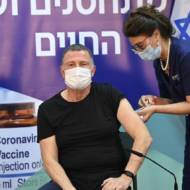 Health Minister Yuli Edelstein shares his joy in being free on the anniversary of the trial that sent him to jail for the crime of teaching Hebrew in the USSR.
By Yakir Benzion, United With Israel
Israel's Health Minister Yuli Edelstein got his coronavirus vaccination shot Saturday night along with Prime Minister Benjamin Netanyahu and told reporters and the television cameras that the date, December 19th, was doubly significant to him personally.
Edelstein and Netanyahu had just launched the start of Israel's ambitious campaign to get the entire 9.2 million population vaccinated as soon as possible in order to bring the coronavirus epidemic to an end.
"Today I looked at the date – December 19th. On this year in 1984 was my trial in the USSR because of my desire to immigrate to Israel," Edelstein said.
"Today on December 19th, 2020 I have the great privilege of being the Minister of Health in the Israeli Government, and together with the Prime Minister – to open the operation 'Give a Shoulder'. Friends, there's reason for optimism."
Born in the Soviet Union in 1958 as the Cold War was raging and the Soviets suppressed any Jewish religious practice, Edelstein was raised by his grandparents. His grandfather taught himself Hebrew and listened secretly to Israeli broadcasts using a shortwave radio.
After his grandfather passed away, the young Edelstein also took it upon himself to learn Hebrew and read books about Israel – dangerous activities that were banned by the repressive Soviet regime that in the 1960s and '70s was supporting the Palestine Liberation Organization's terror campaigns and arming Israel's enemies with massive amounts of Soviet weapons.
While studying at university in 1977, Edelstein applied for a visa to immigrate to Israel, but like most other Soviet Jews, his application was rejected and two years later he was expelled from university and followed by the KGB.
In 1984, Edelstein was arrested along with other "refuseniks" for the crime of teaching Hebrew. He was sentenced to three years in remote Siberia on faked charges of having illegal drugs.
As the Soviet Union began to crumble, Edelstein was released in 1987 and allowed to go to Israel, where he settled in Gush Etzion, served in the IDF, and eventually got into politics with fellow refusenik and human rights advocate Natan Sharansky, who had arrived the previous year. The two (and four other members of their Yisrael B'Aliyah party) were elected to the Knesset in 1996.
HELP ISRAELIS BATTLE CORONA!
Donate to the Corona Emergency Relief Fund. Coronavirus has taken a huge toll on the people of Israel. The poor, elderly and ill are most vulnerable.

Israeli soldiers, security officers and medical care providers operate under great danger and risk to life.

Over 1 million Israelis are out of work. Many cannot make ends meet. We provide financial aid, food, medical supplies and more. Funds are distributed where needed most. The time to act is now!
The post Meaningful Date: Israeli Health Minister Vaccinated on Anniversary of his Soviet Show Trial first appeared on United with Israel.

United with Israel