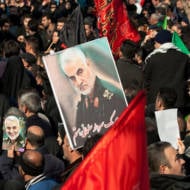 Let's Make a Deal? Iranian Commander Rants About 'Killing All US Leaders'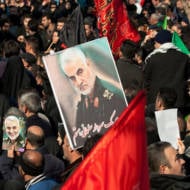 Mohammad Pakpour, a senior commander of the Islamic Revolutionary Guard Corps, insists that Iran "should avenge" assassinated Iranian nuclear scientist Qassem Soleimani

By JNS.org
Mohammad Pakpour, a senior commander of Iran's Islamic Revolutionary Guard Corps (IRGC), said that killing all American leaders would not be enough to avenge the assassination of former IRGC commander of the Quds Force, Maj. Gen. Qassem Soleimani, according to Iranian state media.
"Martyr Soleimani was such a great character that if all American leaders are killed, this will still not avenge his assassination," he said, as reported by Reuters. "We should avenge him by following Soleimani's path and through other methods."
The United States assassinated Soleimani in a drone strike at the Baghdad International Airport in January 2020.
Soleimani led the division responsible for clandestine military operations throughout the Middle East and the world. In his later years, he was considered by some analysts to be the right-hand man of Iran's Supreme Leader Ayatollah Ali Khamenei, as well as the second-most powerful person behind him.
U.S. Army Gen. Mark Milley, Chairman of the Joint Chiefs of Staff, said last week that he is against removing Iran's Quds Force, part of the IRGC, from the list of Foreign Terrorist Organizations.
Send Passover Packages to Needy Israeli Soldiers – Bring Them Joy!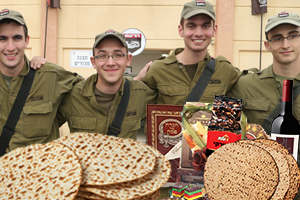 We are honored to thank the young men and women of the IDF who risk their lives every day to protect the freedom of the citizens of Israel.
Join us in sending Passover food packages (and personal notes) to Israeli soldiers and their families

Many soldiers spend the Passover holiday with needy families back home. The soldiers greatly appreciate your love and concern. Bring them Passover joy!
CLICK HERE TO SEND YOUR PACKAGE AND NOTE TO ISRAELI SOLDIERS!
The post Let's Make a Deal? Iranian Commander Rants About 'Killing All US Leaders' first appeared on United with Israel.
United with Israel