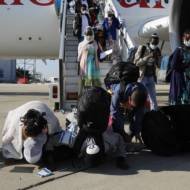 Joyful Ethiopians Kiss the Ground After Making Aliyah to Israel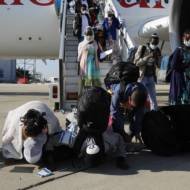 First group of over 300 immigrants arrives under Operation 'Tzur Yisrael' that will bring thousands of Ethiopian Jews home to Israel.
By Yakir Benzion, United With Israel'
Over 300 Ethiopian Jewish immigrants arrived in Israel Thursday, many of them kissing the ground in thanks when they came off the plane at Ben-Gurion International Airport.
The new olim were accompanied on the flight by Immigration Minister Pnina Tamano-Shato, herself an Ethiopian Jew, who is working to bring up to 8,000 more Jews to Israel who have been stranded in Ethiopia for years.
Prime Minister Benjamin Netanyahu was at the airport to greet the new arrivals, saying he and his wife Sara had tears in their eyes.
"I do not remember, for many years, when I have been moved so much at a sight of such refined Zionism that expresses all of its significance," Netanyahu said. "We saw the immigrants, our Jewish brothers and sisters from Ethiopia leave the plane with baskets – like we remember, like I remember from my childhood – they come down and touch the ground, the land of Israel.
"The mother kisses the ground and carries an infant named Jerusalem, and another infant is named Esther. Esther and Jerusalem are coming to Jerusalem – this is the essence of the Jewish story. This is the essence of the Zionist story," the prime minister said.
The 316 Ethiopian Jews who arrived today are the first to come to Israel out of the approximately 2,000 future immigrants expected by the end of January 2021 as part of the government plan that Prime Minister Netanyahu submitted last October.
"These new immigrants are part of the 2,000 Ethiopian Jews that the Government of Israel has approved to make Aliyah by spring 2021," Keren Hayesod-United Israel Appeal said in a statement. The organization is part of Operation Tzur Yisrael, the project to bring the thousands of Ethiopian Jews still waiting to return home and reunite with their families already in Israel.
Due to health restrictions on gatherings due to the coronavirus pandemic, their families were not able to greet them upon arrival and there was no big celebration permitted. The immigrants will immediately enter two weeks of coronavirus quarantine, in accordance with government health protocols relating to the pandemic.
"Following decades of separation and grave circumstances, thousands of Ethiopians will now have the opportunity to be reunited with their families and fulfill the biblical prophecy of returning home to Israel," Keren Hayesod said in a statement. "This will be the new immigrants' first Shabbat in Israel, an exciting and joyous time. It is our hope that they have an easy and restful Shabbat. Shabbat Shalom!"
HELP ISRAELIS BATTLE CORONA!
Donate to the Corona Emergency Relief Fund. Coronavirus has taken a huge toll on the people of Israel. The poor, elderly and ill are most vulnerable.

Israeli soldiers, security officers and medical care providers operate under great danger and risk to life.

Over 1 million Israelis are out of work. Many cannot make ends meet. We provide financial aid, food, medical supplies and more. Funds are distributed where needed most. The time to act is now!
The post Joyful Ethiopians Kiss the Ground After Making Aliyah to Israel first appeared on United with Israel.

United with Israel