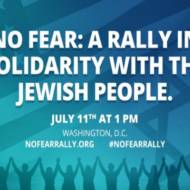 'Jews are Fed Up': 'No Fear' Rally at US Capitol Targets Anti-Semites, BDS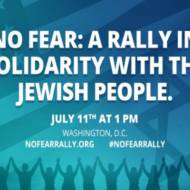 Jews of all backgrounds will unite in solidarity on Sunday.
By United With Israel Staff
Deeply disturbed by rising levels of anti-Semitism, a coalition of Jewish groups is holding a rally outside the U.S. Capitol on Sunday.
Organizers say the gathering, called "No Fear: A Rally in Solidarity With the Jewish People" aims to unite Jews and raise awareness of rising anti-Semitism in the U.S. and around the world.
The rally is scheduled to begin at 1:00 PM. For those who can't attend, the rally will be live-streamed on the event's website and Facebook pages.
Confirmed speakers include actress Noa Tishby, media personality Meghan McCain, former Senator Ron Coleman of the Republican Jewish Coalition, former Representative Ron Klein of the Jewish Democratic Council of America, former white supremacist Derek Black, and victims of anti-Semitism such as Rabbi Jeffrey Myers of Pittsburgh's Tree of Life Synagogue among others.
The Forward reported that the White House plans to send a video message.
Elisha Wiesel, the son of the Holocaust survivor and human rights luminary Elie Wiesel, will give the keynote speech.
"With what is happening right now, from a rabbi in Boston being stabbed in the street to the aftermath of the recent conflict in Gaza, where you have everything from firecrackers being thrown at Jews, mobs ganging up on smaller numbers of Jews in restaurants, and cars going around with a mob of anti-Israel thugs harassing Jewish communities. I mean, is this our country?" Wiesel told the Jewish Journal of Los Angeles.
"One of the key messages at this rally is that antisemitism is a very devious enemy because it creeps into culture in all sorts of ways. It's a shapeshifter, " Wiesel added
"What we have to do is rather than attacking our fellow Jew who disagrees with us politically or has a different way of observing Shabbat than we do or doesn't attend the same kind of synagogue . . . we have to say that each one of us has an opportunity based on where we are in the community to clean up a piece of hatred and replace it with something else. You can only clean up what's on the political right if you're in the political right. You can only clean up what's on the left if you're in the political left. We should be allies with each other," he said.
Free buses will take participants from Boston, New York, Philadelphia and Baltimore.
The rally is being sponsored by more than 100 Jewish groups, including The Anti-Defamation League, American Jewish Committee, The Jewish Federations of North America, Combat Antisemitism Movement, StandWithUS, Union for Reform Judaism, Rabbinical Assembly, Republican Jewish Coalition, Orthodox Union, United Synagogue of Conservative Judaism, Jewish Democratic Council of America, Birthright Israel Foundation, Masa Israel Journey and The Jewish Agency for Israel among many others.
For more information, visit the 'No Fear' rally'S website.
PLANT FRUIT TREES IN ISRAEL BEFORE SABBATICAL BEGINS!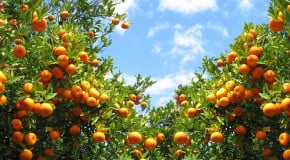 HELP ISRAELI FARMERS PLANT NOW – BEFORE SHMITA!

TIME RUNNING OUT to make the Land even more fruitful while helping Israeli farmers offset financial losses from Covid, Hamas arson fires and the upcoming Sabbatical year.

"…the seventh year shall be a complete rest for the Land…"

"…I will ordain My blessing for you…"
(Leviticus 25:4,21)
CLICK TO PLANT YOUR FRUIT TREES IN ISRAEL TODAY, BEFORE IT'S TOO LATE!
The post 'Jews are Fed Up': 'No Fear' Rally at US Capitol Targets Anti-Semites, BDS first appeared on United with Israel.
United with Israel