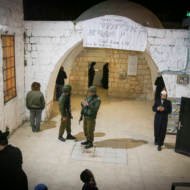 Jewish Circumcision Ceremony Held at Joseph's Tomb in Samaria, First in Decades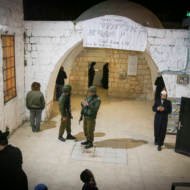 For the first time in 20 years, a Brit Milah took place at the ancient burial site in the biblical city of Shechem.
By Aryeh Savir, TPS
Twenty years after Israel's abandonment of Kever Yosef (Joseph's Tomb) in Shechem (Nablus), a Brit Milah (Jewish circumcision) was held early Thursday morning at the holy site during a limited visit for the purpose of cleaning and maintenance work.
The entry to the site, under Palestinian Authority (PA) control, took place despite the lack of security coordination between Israel and the PA.
At the beginning of the Al-Aqsa Intifada in 2000, rioting Muslims looted and razed the site. Following Operation Defensive Shield in 2002, Jewish groups visit intermittently to pray.
Thursday's visit was the second limited entry since the outbreak of the Coronavirus (COVID-19) in February. Due to the pandemic, there was no mass entry for prayer, and only 20 people attended this visit, mostly immediate familyl.
The family has been associated for many years with Joseph's Tomb and asked not to publish its name.
The boy was named Benjamin, after the son of the the matriarch Rachel, whose date of death was marked on Thursday and who passed away as she gave birth to her son Benjamin.
The Brit was held on the Kiseh Eliyahu (Elijah's chair) that was placed at Joseph's Tomb in 2000. At the time of the abandonment of the tomb by the IDF, an order was given to leave everything behind except the holy books. However, one of the officers saved Elijah's chair and it was returned to the site for the first time in 20 years.
Yossi Dagan, head of the Shomron Regional Council, who attended the Brit, said that "it is exciting to come here on the day of the death of our mother Rachel and Benjamin's birthday."
"It's history, a Brit at Joseph's Tomb after so many years. I wish the newborn and his family that the Bar Mitzvah will be done here with the Yeshiva of Joseph's Tomb in full, with an army that is here all the time, that we will be privileged to return here," he added.
Do You Love Israel? Make a Donation to Show Your Support!
Donate to vital charities that protect Israelis and help inspire millions around the world to support Israel too!
Now more than ever, Israel needs your help to fight – and win – the battle of public opinion.
Anti-Israel bias and boycotts are out of control. Israel's enemies effectively use social media to incite brutal terror against innocent Israeli civilians. Please help us fight back!
The post Jewish Circumcision Ceremony Held at Joseph's Tomb in Samaria, First in Decades first appeared on United with Israel.

United with Israel