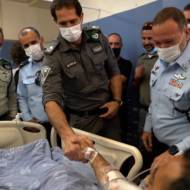 'It was Either Me or Him': Israeli Officer Describes Struggle With Terrorist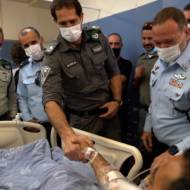 "I realized that no matter what happens — I can't let go of him," said Israeli Border Police officer Staff Sgt. M.

By Pesach Benson, United With Israel
An Israeli Border Police officer who stabbed by a Palestinian outside Jerusalem's Old City on Sunday described the attack for the time from his hospital bed.
The officer, identified only as Staff Sgt. M, is in moderate condition at Jerusalem's Hadassah Mt. Scopus Hospital.
His attacker, a 20-year-old Palestinian identified as Nadheer Marzouq, is hospitalized after being shot by M's colleagues. Police said they found two knives on Marzouq.
Hebrew media reports said that Marzouq — who was from the village of Abwein, near Ramallah — was in Israel illegally.
M shared his story with Israel's Channel 12 News.
"I remember the incident in detail. We were manning a position at Damascus Gate and noticed [the man] acting in a suspicious way. We called him for a security check and began questioning him," M said. He added that the man's answers raised his suspicions.
"Suddenly, the terrorist drew a knife and jumped me and my friends with the aim of harming us. I wrestled with him and with his first swing of the knife he hit me."
"My friends responded in the most amazing way I could have imagined," M said. "They engaged [the attacker] and tried not to hurt me in the process. I was worried that if I got up the terrorist would try to attack me or one of my friends again."
Explaining how he had the presence of mind to tackle the terrorist, M said, "The brain works automatically. I realized it was either me or him. I realized that no matter what happens — I can't let go of him."
M added that he looks forward to returning to duty as soon as possible.
One of M's colleagues who helped subdue the terrorists told Channel 12 it was clear to her that the Palestinian intended to harm people.
"I'm still processing the situation," she said. "It was clear to us that the terrorist didn't want to hurt officers, he wanted to hurt innocent civilians, victims who can't respond. That's why he was scanning the area. I'm happy we were the ones to take the hit and not a civilian," she added.
M was visited by Police Commissioner Kobi Shabtai and Border Police chief Amir Cohen, who praised the officer for saving lives with his quick response.
"You responded exactly as expected," Shabtai told M.
"Your instinct to jump the terrorist and overcome him alongside the actions taken by your teammates, for neutralizing him from point-blank range without hurting you, is real professionalism. Your actions saved the lives of many citizens."
Do You Love Israel? Make a Donation to Show Your Support!
Donate to vital charities that protect Israelis and help inspire millions around the world to support Israel too!
Now more than ever, Israel needs your help to fight – and win – the battle of public opinion.
Anti-Israel bias and boycotts are out of control. Israel's enemies effectively use social media to incite brutal terror against innocent Israeli civilians. Please help us fight back!
The post 'It was Either Me or Him': Israeli Officer Describes Struggle With Terrorist first appeared on United with Israel.
United with Israel