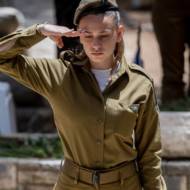 Israel's Memorial Day: Not Just About Soldiers Anymore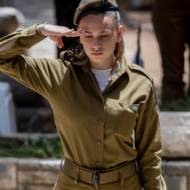 Israel believes that both soldiers killed in battle, and the civilian victims, are casualties of the same war.
Israel's Yom Hazikaron (Memorial Day) is special in several ways.
For example, television stations screen the name of every soldier who fell for the country for twenty-four hours. Additionally, the entire country stands still for a one-minute siren memorializing Israel's fallen troops…and terror victims.
That's because another thing that separates Israel's Memorial Day from every other country is that the day doesn't only commemorate its fallen soldiers. This sad day also honors innocent civilians killed by Arab terror.
Israel believes that both soldiers killed in battle, and the civilian victims, are casualties of the same war. That's because the mere act of living in Israel is in and of itself a sacrifice, as is serving in its military.
All Jews in Israel are either directly or indirectly fighting in a war honoring God who promised the Land of Israel to the Jewish people and commanded them to safeguard it.
Unfortunately, terrorists have killed over 3,000 Israelis since its inception in 1948. But the commemoration doesn't end with the deceased. Their children must carry the emotional weight of losing a parent or loved one for the rest of their lives.
That's where the Shiloh Israel Children's Fund (SICF) enters the picture. SICF specializes in healing the trauma of children who are direct victims of terror or have been affected by terror. The result of SICF's effort is a brighter future for those children living in the heartland of Israel.
They do this using various alternative therapies, including animal-assisted therapy, music therapy, sports therapy, and art therapy. The organization's founder David Rubin is himself a victim of terror, as is his son. David, along with his son, who was three years old at the time, was wounded in a shooting attack while driving home to Shiloh in the Samaria region of Israel. The trauma that both he and his son experienced from the attack inspired Rubin to launch this important organization to combat the deep psychological scars that remain from deadly terror attacks.
And although most Israelis still place their Memorial Day focus on fallen soldiers, SICF will be there to protect their children from being forgotten.
The post Israel's Memorial Day: Not Just About Soldiers Anymore first appeared on United with Israel.
United with Israel