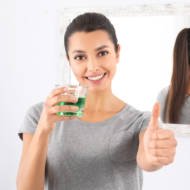 Israel's 1-second Corona 'Gargle Test' Remarkably Accurate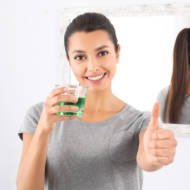 New on-the-spot test shows 95 percent accuracy in first field tests that gives results in one second.
By Yakir Benzion, United With Israel
Israeli researchers think their new testing method for coronavirus infection might become the world standard after initial tests showed their new procedure gave 95 percent accuracy just by gargling a special fluid.
The Israeli start-up company Newsite Imaging partnered with the Sheba Medical Center for a test of 400 people and they are thrilled with the results.
"This system is very rapid, cheap, and is looking reliable," Prof. Eli Schwartz, head of the trial and of Sheba's Center for Geographic Medicine, told The Times of Israel. "It's suitable for mass screening, as well as airport screening, screening at nursing homes, and even screening at home."
The device, SpectraLIT, is the size of a computer mouse and is able to detect evidence of the presence of a virus in the body in less than a second, using a fluid sample – a blood serum or a saliva sample.
The amazingly fast system has the patient gargle a special mouthwash and then spit it into a USB-powered machine that is the size of a small bowl, which takes only one second to analyze the pathogens that were transferred from the patient's mouth into the mouthwash .
The device is based on the recognized and reliable method called spectral technology for virus detection. NewSite has registered a number of patents worldwide for the innovative technology.
The equipment currently needed to test for COVID-19 is extremely expensive, unlike the new method, which is much faster and gives results almost on-the-spot at a fraction of the cost.
Newsite set up a  joint venture with Sheba Medical Center called Virusight Diagnostic for the commercialization of pathogen detection technology, including viruses and various bacteria.
Virusight Diagnostic wants to bring the device to market as soon as possible to meet the urgent need worldwide for fast and accurate tests, which will allow differentiation between sick and healthy people, especially the corona virus.
HELP ISRAELIS BATTLE CORONA!
Donate to the Corona Emergency Relief Fund. Coronavirus has taken a huge toll on the people of Israel. The poor, elderly and ill are most vulnerable.

Israeli soldiers, security officers and medical care providers operate under great danger and risk to life.

Over 1 million Israelis are out of work. Many cannot make ends meet. We provide financial aid, food, medical supplies and more. Funds are distributed where needed most. The time to act is now!

United with Israel