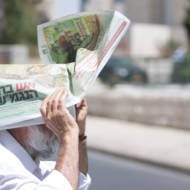 Israelis Use Sun to Cool People, Cars and Homes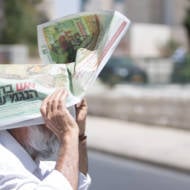 Ness Ziona-based startup strikes partnership to bring unique cooling mechanisms to Volkswagen.
By Pesach Benson, United With Israel
It sounds counter-intuitive to use sunlight to cool down cars or homes, but that's exactly what one Israeli startup has managed to do.
SolCold, based in Ness Ziona, has developed technology that can be applied to surfaces with a liquid filmy coating, and then activated to use sunlight to cool down cars, buildings, food containers and even clothes.
CEO and co-founder Yaron Shenhav told the Times of Israel that he hopes to develop a paint by 2024 that could be widely applied to buildings.
The Israeli startup announced on Tuesday that it has reached an agreement with Konnect, the Volkswagen Group's innovation hub in Tel Aviv, to test the material on cars.
Shenhav explained to No Camels that natural sunlight produces a reaction in SolCold's cooling material.
Heat accumulated in the object is converted into radiation and released by a process developed by SolCold called anti-Stokes fluorescence. By converting the solar radiation into subatomic particles, the objects lose their heat, which actually creates a cooling effect.
According to Shenhav, this yielded a 60 percent reduction in energy use, a game-changer for people living in sunny climates.
The technology could also be applied to the construction, aerospace, military and freight transportation sectors among others.
"It's not going to be at all specifically for cars — it's going to be on your t-shirts, on the electronic box outside your apartment, on the rooftop of your house," Sternhav said. "We want to be the apple of cooling coatings, the best in the world."
SolCold was founded in 2016 Sternhav along with Hebrew University nanoscience professor Guy Ron.
Do You Love Israel? Make a Donation to Show Your Support!
Donate to vital charities that protect Israelis and help inspire millions around the world to support Israel too!
Now more than ever, Israel needs your help to fight – and win – the battle of public opinion.
Anti-Israel bias and boycotts are out of control. Israel's enemies effectively use social media to incite brutal terror against innocent Israeli civilians. Please help us fight back!
The post Israelis Use Sun to Cool People, Cars and Homes first appeared on United with Israel.
United with Israel