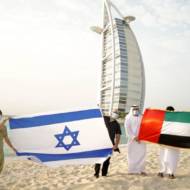 Israelis Host Virtual Sukkah Gathering with UAE Jewish Community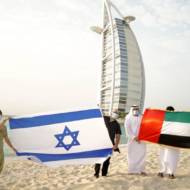 Residents of Efrat in the Gush Etzion region of Judea are planning a trip to Dubai once the pandemic ends.
By Yakir Benzion, United With Israel
The mayor of Efrat, the largest Jewish city in the Gush Etzion bloc, a short drive south of Jerusalem, is a firm believer in peace. This week, during the Sukkot holiday, he invited members of the Jewish community from the United Arab Emirates to a virtual visit in his sukkah.
Oded Revivi supported Prime Minister Benjamin Netanyahu's push for the historic peace treaties signed last month at the White House with the UAE and Bahrain. Revivi told The Jerusalem Post that as soon as the coronavirus pandemic is over, he plans to organize a trip to the Emirates.
"We are holding this meeting because of the peace deal," Revivi said of the video conference meeting, where members of Dubai's Jewish community were welcomed into his sukkah via laptop.
The holiday of Sukkot is associated with peace and faith. Revivi noted that this year, the Feast of Tabernacles, as the holiday is known to many, is also linked to diplomatic faith. In this new era, he said, Israelis have new connections to countries they were barred from in the past.
One of the members of the Dubai community on the screen in Revivi's sukkah was Alex Peterfreund, whose family thought he was crazy for opening a diamond business in the UAE in 2014.
"It was like telling them I had gone to live in Ramallah. My parents didn't sleep at night. They sent me text messages every two hours to make sure I was alright," Peterfreund said during his virtual visit to Efrat.
Peterfreund became one of the founders of the small UAE Jewish community. From the moment he moved to Dubai, he said, he was treated well by friendly Emiratis who knew he was Jewish.
"The peace deal with Israel has changed everything, we have come out from under the radar," Peterfreund said, adding that religious travelers to the UAE will now be able to get kosher food and participate in prayer services.
"Nothing will be missing, we are waiting for you," Peterfreund said.
In Dubai, local entrepreneur Yousef Sharaf put up a Sukkah outside the famous Burj Khalifa tower, tweeting a video and inviting people to "celebrate the holiday of Sukkot with prayer and a meal opposite Burj Khalifa … To all my Jewish friends may you and your families be blessed with happiness, good health, and prosperity."
HELP ISRAELIS BATTLE CORONA!
Donate to the Corona Emergency Relief Fund. Coronavirus has taken a huge toll on the people of Israel. The poor, elderly and ill are most vulnerable.

Israeli soldiers, security officers and medical care providers operate under great danger and risk to life.

Over 1 million Israelis are out of work. Many cannot make ends meet. We provide financial aid, food, medical supplies and more. Funds are distributed where needed most. The time to act is now!

United with Israel