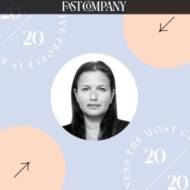 Israeli Woman Honored on 'Most Creative People' List of Top Business Magazine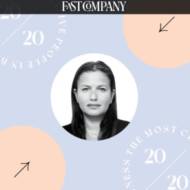 Inna Braverman, founder and CEO of Eco Wave Power, is the only Israeli on Fast Company's annual list of the most creative people in business.
By Abigail Klein Leichman, Israeli21c
Inna Braverman, founder and CEO of Israeli clean-energy company Eco Wave Power, is the only Israeli on the 11th annual Fast Company list of Most Creative People in Business honoring 74 women and men from such companies as Netflix and Google.
Braverman cofounded Eco Wave Power in 2011 at the age of 24. Its wave energy generation technology is installed in Israel and Gibraltar, and next will be introduced in Portugal. She led the public listing of Eco Wave Power on Nasdaq Stockholm, thereby becoming the first Israeli company to list on this exchange.
"I am honored to be included in such an impressive list of creative individuals, and it is incredibly gratifying to see Eco Wave Power recognized for the pioneering work that we are doing," said Braverman.
"Since [cofounder] David Leb and I began this journey in 2011, our goal has always been to revolutionize the renewable energy sector. As climate change presents an increasingly urgent challenge, we need lots of creative thinking, to preserve our planet and aid the fight against climate change."
Braverman was previously recognized as CNN's "Tomorrow's Hero," Medium.com's "100 makers and mavericks," Wired's list of "Females Changing the World" and MSN.com's "30 most influential women of the 21st century."
Most recently, she was awarded the United Nations Global Climate Action Award in the category of "Women for Results" and shortlisted for the EU prize for women innovators 2020.
HELP ISRAELIS BATTLE CORONA!
Donate to the Corona Emergency Relief Fund. Coronavirus has taken a huge toll on the people of Israel. The poor, elderly and ill are most vulnerable.

Israeli soldiers, security officers and medical care providers operate under great danger and risk to life.

Over 1 million Israelis are out of work. Many cannot make ends meet. We provide financial aid, food, medical supplies and more. Funds are distributed where needed most. The time to act is now!

United with Israel