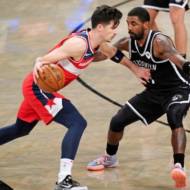 Israeli 'Wizard' Gets Big Birthday Present: First NBA Victory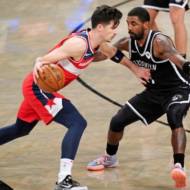 "Mark my words — we're gonna be good," said Israeli rookie Deni Avdija.
By United with Israel Staff
The Washington Wizards trounced the Minnesota Timberwolves by 21 points on Friday night, winning the game 130-109.
The victory marks the first NBA win for 20-year-old Israeli player Deni Avdija, who celebrated his birthday on Sunday.
Avdija has started in all six Wizard games this season, notching his his first double-digit game against the Wolves, scoring 11 points. Avdija also grabbed seven rebounds, made three assists, and nabbed three steals.
While Wizards star Russell Westbrook didn't play in the game, other members of the Washington roster, including Avdija, picked up the slack.
"We can have seven, eight straight losses and we still believe in ourselves," Avdija commented to The Associated Press. "Mark my words — we're gonna be good."
Avidja was the number nine overall pick in the NBA draft, becoming the highest selected Israeli of all time.
"I thought Deni took another step in a young career," coach Scott Brooks said after the victory over Minnesotsa. "I thought he was able to make a few plays that we can maybe utilize him more in the future."
Teammate Bradley Beal had high praise for Avdija in a recent piece on Basketball Insiders.
"He's constantly learning," Beal said. "It's so funny because before he got here they told us he's a man of a million questions, like Deni asks a lot of questions. And that's a great thing because he just wants to learn, he wants to get better, he wants to be on the floor. And it's amazing to see how poised he is on the floor, he doesn't really get fed up, he doesn't get bothered by anything."
HELP ISRAELIS BATTLE CORONA!
Donate to the Corona Emergency Relief Fund. Coronavirus has taken a huge toll on the people of Israel. The poor, elderly and ill are most vulnerable.

Israeli soldiers, security officers and medical care providers operate under great danger and risk to life.

Over 1 million Israelis are out of work. Many cannot make ends meet. We provide financial aid, food, medical supplies and more. Funds are distributed where needed most. The time to act is now!
The post Israeli 'Wizard' Gets Big Birthday Present: First NBA Victory first appeared on United with Israel.

United with Israel