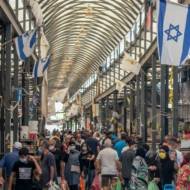 Israeli Watchdog Catches Harvard University Saying Israeli Cities are in 'Occupied Palestine'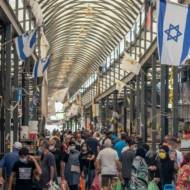 Harvard was forced to update its website after Arab divinity college fellow claimed the Israeli cities of Ramla and Lod are in "occupied Palestine."
By Yakir Benzion, United With Israel
Harvard University was forced to correct its website after an eagle-eyed Israeli journalism watchdog spotted the biography of a Harvard University Divinity School fellow claiming that two Israeli cities are in "occupied Palestine."
The biography of Rami Younis, who was a Religion, Conflict, and Peace Initiative Fellow in the 2019–⁠20 session, included the text: "He is one of the founders of the Palestinian activist group Khotweh, which was active on the issues of home demolitions and Palestinian identity in Lyd and Ramleh, mixed Jewish-Arab cities in occupied Palestine."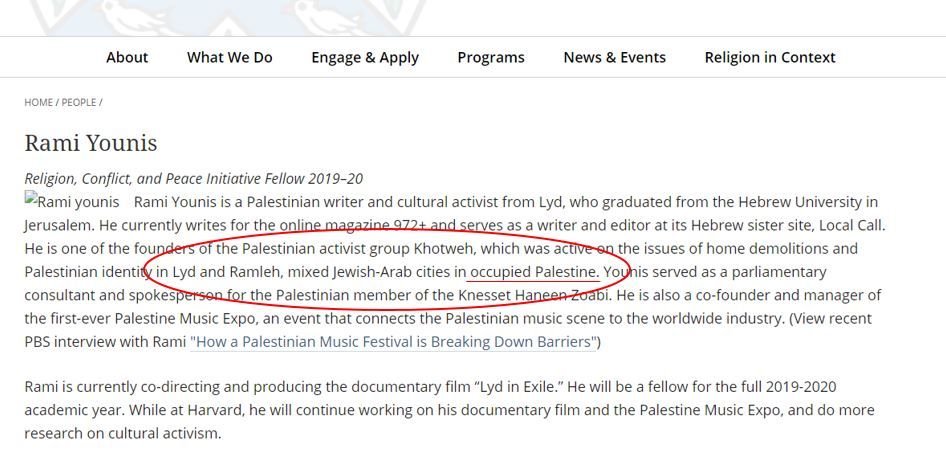 "Of course, Lod and Ramle are Israeli cities, well within the Green Line and not in the territories. This article on Harvard's website is saying that all of Israel is illegitimate," said David Bedein of the investigative website Israel Behind The News, who spotted the error last week and posted it online.
The text had been there until at least December 7, but by Sunday, Harvard had taken heed and changed the text by removing the words "occupied Palestine" from the offending web page.
However, the same webpage still says: "Younis served as a parliamentary consultant and spokesperson for the Palestinian member of the Knesset Haneen Zoabi."
Zoabi, who was ousted by her own political party for being too radical and is not longer a Knesset member, is an Israeli-Arab citizen, and not from the Palestinian-administered territories. Known for her anti-Israel rhetoric, Zoabi was suspended by the Knesset for six months in 2014 after making offensive comments about the kidnapping of three Israeli high school students who were found murdered by the Hamas terror group.
By posting the biography of Younis, Harvard was "effectively saying that all Arab citizens of Israel are Palestinian – with the implication that all Jews in Israel are thieves," Bedein said. "No doubt Younis himself wrote his bio, and Harvard published it without any editing – because who would even think that an academic would use his biography to delegitimize an entire nation?"
Bedein pointed out that Palestinians routinely use any and every means for anti-Israel propaganda and that by failing to catch the offensive text until he pointed it out, "Harvard is complicit in spreading lies."
THE DREAM RAFFLE – Win a Luxury Jerusalem Home!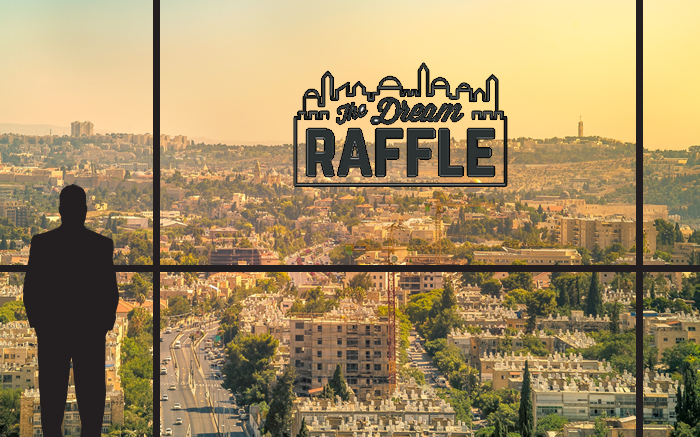 THE CITY. THE DREAM. THE CHANCE OF A LIFETIME!
Your brand new Million Dollar Jerusalem apartment with an awesome view of the Temple Mount is just a few clicks away.
The keys to a luxury Jerusalem apartment can be yours forever.
And at the same time support great causes like United with Israel!
The Dream Raffle may sound too good to be true… but it is real. Enter now before it's too late!
The post Israeli Watchdog Catches Harvard University Saying Israeli Cities are in 'Occupied Palestine' first appeared on United with Israel.

United with Israel