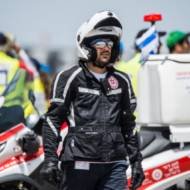 Israeli Medical Service Deploys Lifesaving Equipment to Arab Town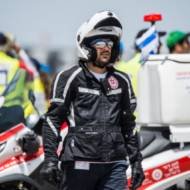 "In the moment of truth, the use of a defibrillator is the difference between life and death. The initiative is very important to us as a society," said the city of Iksal's local council head Muhammad Shilby.
By TPS
The Magen David Adom – Israel's Red Cross equivalent – has broadened its defibrillator distribution project and deployed four advanced defibrillator devices at four main locations in the Arab town of Iksal, near Nazareth in northern Israel.
The life-saving devices were placed in the city square near the local council building, near the Tipat Chalav childcare building, the city's welfare building and the gas station at the entrance to the industrial area.
Through these "smart" stations, any citizen can call the MDA 101 hotline in the event of a medical emergency requiring resuscitation and receive guidance on the telephone on how to use the defibrillator while an intensive care unit with MDA medics on motorcycles are dispatched to the scene.
Many lives have been saved across the country using the Magen David Adom defibrillator devices.
Every 60 seconds that pass without treatment from the moment of an onset of a cardiac event, the patient's survival rate decreases by about 7-10 percent, and the faster an electric shock is administered, the patient's chance of resuming heart activity increases, MDA explained.
The Magen David Adom defibrillator can be operated easily by any citizen without prior medical knowledge. The device delivers electric shocks as needed, dictates the resuscitation rate, and provides clear voice and visual operating instructions.
At the same time, the defibrillator is connected to the MDA 101 emergency center and the operator can receive additional instructions from medics and paramedics.
Iksal Local Council head Muhammad Shilby congratulated MDA for its cooperation and thanked it for the initiative, which "aims to save lives in the council's public space."
"In the moment of truth, the use of a defibrillator is the difference between life and death. The initiative is very important to us as a society and is intended for the well-being of the residents," he said.
"We work daily to improve the health systems and their accessibility to the residents, and we will continue to act and strive for additional activities with MDA," he added.
HELP ISRAELIS BATTLE CORONA!
Donate to the Corona Emergency Relief Fund. Coronavirus has taken a huge toll on the people of Israel. The poor, elderly and ill are most vulnerable.

Israeli soldiers, security officers and medical care providers operate under great danger and risk to life.

Over 1 million Israelis are out of work. Many cannot make ends meet. We provide financial aid, food, medical supplies and more. Funds are distributed where needed most. The time to act is now!

United with Israel