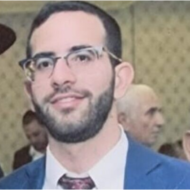 Israeli Hero 'Took Bullets' to Save Infant's Life During Terror Attack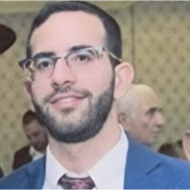 The young Israeli father placed his own body in front of his beloved son to protect him from the bullets.
By United with Israel Staff and TPS
Rabbi Avishai Yehezkel was among the victims of a horrific attack carried out by a Palestinian terrorist in Bnei Brak on Tuesday night.
This is the third such attack in recent days, all of which appear to be connected to the Islamic State (ISIS) terror group.
According to reports in the Israeli media, Yehezkel, a 29-year-old husband and father, was killed while he took his young son for a walk.
The boy couldn't sleep and the young father, who serves as a second grade teacher in a local religious school, was trying to get him to doze off in his stroller.
The victim's brother, Ovadia Yehezkel, said at the funeral that Avishai phoned him to warn him that he heard gunshots down on the street, reported Haaretz.
Not long after, the gunman took aim at Yehezkel.
At that point, the young father placed his own body in front of his beloved son to protect him from the bullets.
"Last night the world turned upside down. You called me and said 'I hear shots, be careful, stay inside the house.' And that's it. I heard no more from you. You cared for us more than you cared for yourself," Ovadia said at the funeral, which was reported by Haaretz.
"You took the bullets like an eagle. You said: 'It would be better for him to hurt me than the child,'" he added, alluding to the Bible's imagery of an eagle protecting its young.
Officer Amir Khoury, 32 from the city of Nof HaGalil, was killed in a shootout with the terrorist. He served in the motorcycle unit at the Bnei Brak station in the Tel Aviv district. He is survived by his parents, a brother, and two sisters.
Yaakov Shalom, a father of five from Bnei Brak, was shot and killed while driving in his car.
The identities of another two victims, Ukrainian citizens who were possibly in the country as construction workers, were yet to be announced.
Following the attack, municipalities around the country announced they were canceling events. Several announced they were suspending construction within the city's boundaries, apparently to keep the Arab workers out.
The IDF and police announced they were recruiting and deploying further forces to prevent further attacks, or at least to provide a rapid response and the event of another attack.
Security tensions in Israel are high, after a series of terror attacks in the Jerusalem area and the murder of four Israelis in Beersheba and another two in Hadera by Islamist terrorists. These attacks occurred ahead of the Muslim month of Ramadan, which usually spells an uptick in Muslim violence and acts of terrorism in Israel.
The country's security establishment is bracing for violence, especially as Ramadan coincides with Passover, and following the first anniversary of Operation Guardian of the Walls in May 2021, which was launched by the IDF following a Hamas rocket attack on Jerusalem that began at the height of the Month of Ramadan.
Do You Love Israel? Make a Donation to Show Your Support!
Donate to vital charities that protect Israelis and help inspire millions around the world to support Israel too!
Now more than ever, Israel needs your help to fight – and win – the battle of public opinion.
Anti-Israel bias and boycotts are out of control. Israel's enemies effectively use social media to incite brutal terror against innocent Israeli civilians. Please help us fight back!
The post Israeli Hero 'Took Bullets' to Save Infant's Life During Terror Attack first appeared on United with Israel.
United with Israel