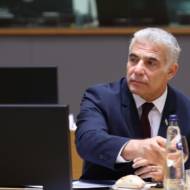 Israeli FM Lapid: Anti-Semitism is a Hatred That Doesn't Stop With Jews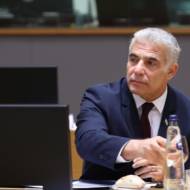 "If you don't help us fight antisemitism today, it might be your child someone looks at in the future and says, "I hate him, I want him to die."
By United With Israel Staff
Addressing an international gathering on anti-Semitism, on Wednesday, Foreign Minister Yair Lapid warned that the hatred of Jews never ends with Jews.
Saying anti-Semitism was analogous to the slave trade, the Hutu massacres of Tutsis in Rwanda and Islamic extremism, Lapid said, "Antisemitism isn't the first name of hate, it's the family name," the foreign minister asserted.
Everyone who believes it is wrong to persecute people just because of their race, nationality, gender, faith or sexuality, also needs to fight anti-Semitism because "anti-semitism never ends with the Jews. It will always move on to the next target," said Lapid.
"The fight isn't between antisemites and Jews: The fight is between anti-Semites and anyone who believes in the values of equality, justice and liberty. If you don't help us fight antisemitism today, it might be your child someone looks at in the future and says, "I hate him, I want him to die," Lapid warned.
Lapid, the son of a Holocaust survivor, was addressing the Global Forum for Combating Antisemitism, an annual event organized by the Ministries of Foreign and Diaspora Affairs. Jewish leaders from around the world gathered in Jerusalem to share information and ideas on fighting Jew-hatred.
Lapid delivered his remarks by Zoom. He was forced to enter quarantine on Tuesday after an aide tested positive for COVID-19.
Also addressing the forum on Wednesday was Israeli President Isaac Herzog. He called on countries to work against the upcoming UN-sponsored Durban IV conference on racism and hatred, a follow up on the World Conference against Racism, Racial Discrimination, Xenophobia and Related Intolerance first held in 2001 in the South African city of Durban.
That original conference was hijacked by Palestinian supporters and radical non-governmental organizations, becoming a launching pad for the Boycott Divestment and Sanctions campaign. The U.S. walked out of the conference when delegates sought to condemn Israel as an apartheid state.
Israel and the US have boycotted all the follow up conferences. The Durban IV conference is scheduled for September.
PLANT FRUIT TREES IN ISRAEL BEFORE SABBATICAL BEGINS!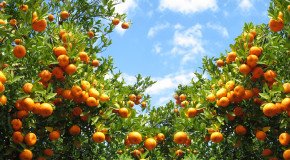 HELP ISRAELI FARMERS PLANT NOW – BEFORE SHMITA!

TIME RUNNING OUT to make the Land even more fruitful while helping Israeli farmers offset financial losses from Covid, Hamas arson fires and the upcoming Sabbatical year.

"…the seventh year shall be a complete rest for the Land…"

"…I will ordain My blessing for you…"
(Leviticus 25:4,21)
CLICK TO PLANT YOUR FRUIT TREES IN ISRAEL TODAY, BEFORE IT'S TOO LATE!
The post Israeli FM Lapid: Anti-Semitism is a Hatred That Doesn't Stop With Jews first appeared on United with Israel.
United with Israel