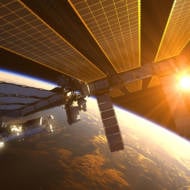 Israeli Experiments in Space will Lead to Major Breakthroughs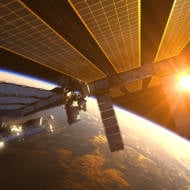 Experiments to be run by Israeli astronaut Eitan Stibbe are expected to lead to technological, scientific and medical breakthroughs.
By Pesach Benson, United With Israel
Israel is scheduled to return to space on Friday, 11:17 AM, Eastern Daylight Time.
That's when a Space X Falcon 9 rocket is scheduled to lift off from the Kennedy Space Center in Florida, carrying Eytan Stibbe, Israel's second astronaut to the stars.
Stibbe, a former Israeli Air Force pilot, will spend 10 days aboard the International Space Station 400 km above Earth. But Stibbe is no space tourist. He'll be spearheading Israel's Rakia mission, led by Science and Technology Ministry and the Ramon Foundation.
That means Stibbe will have a busy schedule conducting 35 experiments. Some are in partnership with leading Israeli doctors, scientists and academics, others with high school students from Safed, Givatayim, Tel Aviv and Yeruham.
According to the Rakia Mission, the experiments were selected "based on their potential and their possible economic impact," and are "expected to lead to technological, scientific and medical breakthroughs."
Among the more notable experiments:
• The effect of microgravity on the rate that bacteria causes to plastic. Run in partnership with students at the Shimon Ben Zvi High School in Givatayim. The students hypothesize that the bacteria will transform in weightlessness in a way that will allow it to biodegrade more plastic.
• An experiment proving the feasibility of generating electricity and heat from the radiation of cosmic rays. The findings may open new avenues for generating clean energy on Earth. Run in partnership with Israeli researchers Ira Perelshtein-Elbaz, Miri Trinin Gil Koren Hanan Shwarzman Rinat Abrahami-Kerneil Gadi Gonen.
• The effects of microgravity on cow cells that make up the building blocks of meat. Run in partnership with Aleph Farms, a cultivated meat startup, findings will help develop a process for the production of cultivated meat during long-term space missions.
• An artificially intelligent drone that can orientate itself in microgravity using a state of the art electric thrusters to control its movement. The AI software is being developed by students at the Yeruham Science Center in partnership with Prof. Shay Monat of Tel Aviv University's faculty of engineering.
• The first-ever demonstration of manufacture of optical components in space. Run in partnership with Prof. Moran Berkowitz of the Technion's Faculty of Mechanical Engineering. By controlling the surface tension of fluids under microgravity, it will be possible to manufacture outstanding-quality optical components in space.
• The effect of microgravity on microbiota found in the gut. Run in partnership with students at Tel Aviv's Tichon Hadash High School, the research hopes to learn more about the effects of antibiotics in a weightless environment.
• The effects of microgravity on the immune system and brain functions. Run in partnership with Prof. Michal Schwartz, of the Weizmann Institute's Department of Neurobiology, the experiments are expected to shed new light on possible treatments for Alzheimers and dementia.
Stibbe and the other astronauts are currently in a pre-flight quarantine.
Stibbe will be the first Israeli in space since 2003. Ilan Ramon and six other astronauts were killed in the space shuttle Columbia disaster.
Send Passover Packages to Needy Israeli Soldiers – Bring Them Joy!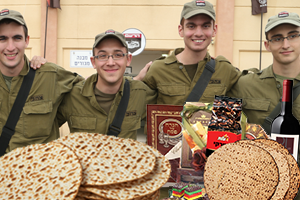 We are honored to thank the young men and women of the IDF who risk their lives every day to protect the freedom of the citizens of Israel.
Join us in sending Passover food packages (and personal notes) to Israeli soldiers and their families

Many soldiers spend the Passover holiday with needy families back home. The soldiers greatly appreciate your love and concern. Bring them Passover joy!
CLICK HERE TO SEND YOUR PACKAGE AND NOTE TO ISRAELI SOLDIERS!
The post Israeli Experiments in Space will Lead to Major Breakthroughs first appeared on United with Israel.
United with Israel