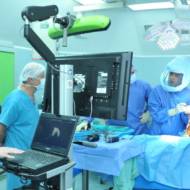 Israeli Doctors Perform First Robotic Knee Replacement in Galilee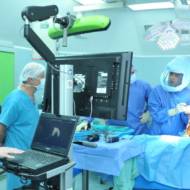 This revolutionary procedure gave two patients unprecedented mobility after surgery.

By Yakir Benzion, United With Israel
Doctors at the Galilee Medical Center in the northern Israeli city of Nahariya carried out robotic surgery for knee joint replacement, giving two women renewed mobility.
"Performed on two women aged 60 and 68 who were suffering from advanced cartilage erosion, it is the first time in northern Israel that a robot helped guide the process," reported The Jerusalem Post.
The innovative operation was performed at the medical center to replace the knee joint by Dr. Inal Bathish, an orthopedic specialist in the field and director of the orthopedic arthroscopy unit at the hospital.
The damaged cartilage was removed during the operation and a prosthetic knee implant was inserted in its place, but using the new technique by which the new implant was adapted to the precise anatomical structure of the patient under the guidance of the robot.
Dr. Bathish said that the use of a robot allows the knee joint to be optimally prepared for surgery, while improving the surgery to give the highest level of accuracy. In addition, it allows real-time simulation of the surgical result before it is performed, so the implant can be customized to the patient.
At the end of the surgeries, the patients were hospitalized in the orthopedic ward and released to go home within a few days, after doctors saw a significant improvement in their condition with the ability to walk independently and the general functioning of their legs.
Galilee Medical Center director Prof. Masad Barhoum congratulated Dr. Bathish on the innovative surgery and added that Israel's northernmost hospital promotes the introduction of modern technologies that lead to an improvement in the quality of care.
HELP ISRAELIS BATTLE CORONA!
Donate to the Corona Emergency Relief Fund. Coronavirus has taken a huge toll on the people of Israel. The poor, elderly and ill are most vulnerable.

Israeli soldiers, security officers and medical care providers operate under great danger and risk to life.

Over 1 million Israelis are out of work. Many cannot make ends meet. We provide financial aid, food, medical supplies and more. Funds are distributed where needed most. The time to act is now!
The post Israeli Doctors Perform First Robotic Knee Replacement in Galilee first appeared on United with Israel.

United with Israel