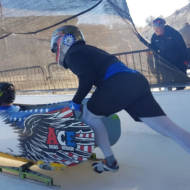 Israeli Bobsledders Blaze New Trail for Blue-and-White Athletes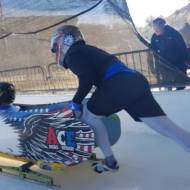 It's Israel's unlikeliest sport, but the athletes involved aren't going to let anything stand in the way of the 2022 Winter Olympics.
By Abigail Klein Leichman, Israel21c
Adam "AJ" Edelman's first skeleton race representing the Israel Bobsleigh and Skeleton Federation was a disaster.
The former ice-hockey goalie and speed skater was a novice at this winter sliding sport when he agreed to compete in the North American Cup in Park City, Utah, in November 2014. He'd only begun training on his 23rd birthday the previous March and the opportunity came up suddenly.
"I had no equipment, not even a jacket, so I went to Walmart and picked up a blue fleece and drew a Star of David on it with a Sharpie. It looked really bad and the race director said it was an embarrassment," Edelman tells ISRAEL21c.
So he competed in borrowed gear: a Panamanian uniform, an Italian helmet, and mismatched shoes from an Australian athlete, Heath Spence, who would later hold Edelman's sled at the 2018 Winter Olympics.
The Utah race "was dismal. I finished more than 18 seconds behind the victor, and I broke some ribs," Edelman recalls.
That just intensified his resolve. The MIT graduate from Massachusetts was then working at Oracle in California. He flew to Calgary weekly to improve his performance, guided by YouTube tutorials because he couldn't afford a coach.
Edelman made aliyah in 2016. He trained at the Wingate Institute, won four Israeli national titles and earned a berth at the 2018 Olympic Games in South Korea.
He would never wear a borrowed uniform again. "I designed a skeleton suit that could not be photographed from any angle without seeing the word 'Israel' or the Jewish star," he says.
Unfortunately, Edelman was eliminated in the third round, and considered quitting permanently. And then he saw a sticky note placed on his luggage by an anonymous Korean at the airport.
"The note said that I inspired her," says Edelman. "And I realized that Israel has an amazing opportunity when athletes compete to represent the country."
Last April, Edelman took a leave of absence from his MBA program at Yale to devote all his energy – and money — to preparing for the 2022 Beijing Olympic Games. Not as a skeleton athlete but as a bobsled pilot. (He's even auctioning his Olympic ring on eBay to try and cover the six-figure loans he has taken this year to support the team.)
"I'd tried bobsled last year and got a great scouting report. It's more fun and far easier than skeleton because I can see where I'm going," he says. "After three trips down the track I decided it's a natural sport for me."
Logo courtesy of BSI
Edelman will pilot his sleigh with teammates handpicked from Israel's Arab Druze community: Moran Nijem, Amir Fawarsy and Ward Fawarsy.
"I'm a firm believer in the meritocracy of sports and I found them by searching for high-quality rugby players. They are absolutely incredible, terrific guys," says the Orthodox Jewish athlete. "To get to the 2022 Games we have to finish in the top 27 for four-man bobsled and our chances are very high."
Edelman's passion for Israel took root during a 2006 summer program during which the Second Lebanon war broke out. "We were in a hotel shelter most of the summer, but I fell deeply in love with the country and it turned my life around. I love Israel and everyone inside it," he says.
"Nobody will ever get in my sled if they would slide for any other country than Israel. Israel has to be the only motivating factor."
'We Love the Sport'
Veteran bobsled pilot Dave Nicholls, who has been competing for Israel for the past two years, also is building a team with an eye toward the Olympics, Bobsleigh Skeleton Israel (BSI) President David Greaves tells ISRAEL21c.
"I was one of the founding members of the Israeli bobsled team, in 2002," relates Greaves, a dual Canadian Israeli citizen.
The other members included former San Francisco 49ers football player Dr. John Frank and former US Air Force pilot Aaron Zeff.
"AJ is our first — and so far, only — Olympian, and it was a culmination of 16 years of hard work.," says Greaves.
"There's such a sense of pride that we're doing this because we love the state of Israel and we love the sport."
An official nonprofit organization affiliated with the National Olympic Committee of Israel, BSI has high hopes for Edelman's and Nicholls' bobsled teams and for its three skeleton athletes: Jared Firestone, Joel Seligstein and Georgina Cohen.
"Getting everyone for practical training in a country that has a track is a challenge now," due to the pandemic, says Greaves.
There's one track in Canada, two in the United States and 10 scattered across five Europe countries.
Israel's Female Skeleton Athlete
Skeleton is done solo, careening headfirst down an icy track on a rectangular sled with blades.
It's not for the fainthearted.
"I am competing to achieve my goal to become the first-ever female Israeli skeleton athlete to qualify for the Winter Olympics," says "Georgie" Cohen, 31, a British Israeli citizen from Cambridge.
She didn't get into the sport until she was 20.
"My dad started bobsled racing at age 50, so I went along and watched," she tells ISRAEL21c.
The Royal Navy Skeleton team offered her the use of a spare sled for a week. "The fear didn't strike me until I got on the sled. But I was hooked," recalls Cohen.
"The opportunity to sled for Israel came up in 2018. As a Jewish person and the first female to represent Israel in this sport, it's a huge privilege," she says.
Normally, Cohen and her teammates train mainly in North America; in Covid times she is training alone in the UK with "less than 500 days till Beijing."
"I've gotten some sponsorships, so I've been able to do it full time. I worked hard this summer as a website and social-media designer so I could concentrate full time this season," she says.
HELP ISRAELIS BATTLE CORONA!
Donate to the Corona Emergency Relief Fund. Coronavirus has taken a huge toll on the people of Israel. The poor, elderly and ill are most vulnerable.

Israeli soldiers, security officers and medical care providers operate under great danger and risk to life.

Over 1 million Israelis are out of work. Many cannot make ends meet. We provide financial aid, food, medical supplies and more. Funds are distributed where needed most. The time to act is now!
The post Israeli Bobsledders Blaze New Trail for Blue-and-White Athletes first appeared on United with Israel.

United with Israel