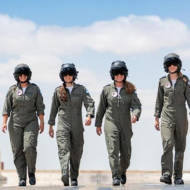 Israeli Air Force Welcomes 5th Female Fighter Pilot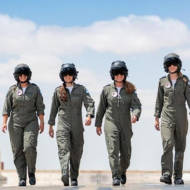 Since the IAF opened its prestigious pilots' course to women in the 1990s, 62 have graduated, but only a handful have been assigned to combat roles.
By Lilach Shoval, Israel Hayom via JNS.org
Four women and 35 men received their Israeli Air Force wings last week at a graduation ceremony in Hatzerim Air Force Base in the Negev Desert.
The newly minted IAF pilots include the first woman in nearly five years and the fifth woman ever to become a fighter pilot in Israel.
Sixty-two women have completed the IAF pilots' course since it opened to women in the 1990s.
In 2019, Lt. Col. G. became the first woman to serve as commander of an IAF squadron.
G., then 35, enlisted in the Israel Defense Forces in 2003 and completed the IAF pilot's course, specializing in transport aircraft. From 2015 to 2017, G. served as deputy commander of the Nachshon Squadron, which operates surveillance aircraft.
JOIN ISRAEL'S MASSIVE SPRING PLANTING OF FRUIT TREES!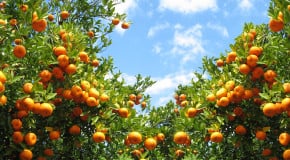 SPRING IS THE BEST TIME TO PLANT YOUR FRUIT TREES!

Make the Land of Israel even more beautiful and fruitful while helping Israeli farmers to recover from financial losses due to COVID-19 and devastating Hamas arson fires.

"…for the Lord your God is bringing you into a good land… a land of wheat and barley, vines, figs and pomegranates, a land of olive oil and honey"
(Deuteronomy 8:7-8)

The post Israeli Air Force Welcomes 5th Female Fighter Pilot first appeared on United with Israel.
United with Israel