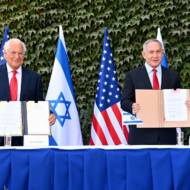 Israel-US Sign Agreement Extending Cooperation to Judea, Samaria and Golan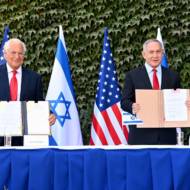 Change in U.S. foreign policy will see millions invested in new areas.
By Yakir Benzion, United With Israel
Prime Minister Benjamin Netanyahu and U.S. Ambassador to Israel David Friedman signed an extension of the Israel-U.S. scientific cooperation agreement Wednesday that allows U.S. funding to apply to research being undertaken in Judea, Samaria and the Golan Heights.
Signed at special ceremony held at Ariel University in Samaria, the two agreements will further bi-national scientific and technological cooperation in the fields of medicine, renewable energy, water, communications, agriculture, homeland security, and many other technology sectors.
"The fact that we are signing agreements here today is of huge significance," Netanyahu said. "It's a demonstration first of your commitment, Ambassador Friedman, and the commitment of President Trump."
Netanyahu said Israel could not have reached the successful stage it was now at without solid American support.
"President Trump's successful approach to bringing peace to our region has helped Israel achieve three new peace agreements: with the Emirates, with Bahrain and with Sudan," Netanyahu said. "President Trump and his team deserve praise for helping to facilitate these agreements. We've worked on them for many years in silent, covert contacts, and some open, but it would not have happened without the full engagement of the president and his team," .
The prime minister pointed out that Trump's moves went in the face of old thinking that progress with Israel would "destroy the chances of peace," yet the moving of the U.S. embassy to Jerusalem and American recognition of Israeli sovereignty over the Golan Heights have proven the naysayers wrong.
"When the president declared that our Jewish communities in Judea and Samaria are not illegal under international law, a theme advanced by, an observation and a decision advanced by Secretary Pompeo, once again the naysayers claimed that this would destroy the chances of peace," Netanyahu said.
"By rejecting the failed mantras of the past … I think the Trump vision also put forward something else that we see today. It opens Judea and Samaria to academic, commercial and scientific engagement with the United States. This is an important victory against all those who seek to delegitimize everything Israeli beyond the 1967 lines," Netanyahu pointed out, calling the signing "a victory against all of the organizations and countries that boycott Judea and Samaria."
"We will not stop taking action so that the entire area will prosper and flourish. The scientific cooperation agreement is especially important at this time, when we are dealing with the coronavirus," he said, referring to the economic damage resulting from the pandemic.
HELP ISRAELIS BATTLE CORONA!
Donate to the Corona Emergency Relief Fund. Coronavirus has taken a huge toll on the people of Israel. The poor, elderly and ill are most vulnerable.

Israeli soldiers, security officers and medical care providers operate under great danger and risk to life.

Over 1 million Israelis are out of work. Many cannot make ends meet. We provide financial aid, food, medical supplies and more. Funds are distributed where needed most. The time to act is now!
The post Israel-US Sign Agreement Extending Cooperation to Judea, Samaria and Golan first appeared on United with Israel.

United with Israel