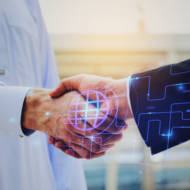 Israel to be Linked Directly to Saudi Arabia with Google's New Fiber-Optic Network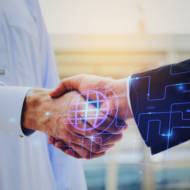 Google plans massive regional fiber-optic cable project including a connection between Israel and Saudi Arabia.
By Yakir Benzion, United With Israel
Google is planning a major new fiber-optic communications network that will include a direct connection between Israel and Saudi Arabia, the Wall Street Journal reported this week.
The overland cable linking the two countries will be part of a major project designed to link India with Europe as part of Google's ongoing construction of more communications capacity to "support its surging user demand for videos, search results and other products," the report said.
Google is in a head-to-head competition with Facebook to build greater network capacity as the demand for bandwidth increases and is also competing with the other two giants in cloud services: Microsoft and Amazon.
The new regional data network will be called Blue Raman, after Indian physicist Chandrasekhara Venkata Raman, a Nobel laureate in physics whose work helped advance the field of optics. Upon Raman's death in 1970, then Indian Prime Minister Indira Gandhi praised him as "the greatest scientist of modern India … His life's work consisted of throwing light upon the nature of lights, and the world honored him in many ways for the new knowledge which he won for science."
According to the report, the Dubai-based telecommunications firm Salience Consulting estimates that the 5,000 mile or more long Blue Raman project could cost Google up to $400 million, but the company is expected to take on additional investment partners including Oman Telecommunications from the Gulf Arab state, and Italy's Telecom Italia.
The project is still only in the planning stage and the international nature requires the approval of multiple countries, including the Saudis who apparently have not yet given their approval to the plan.
While Blue Raman will connect India and Saudi Arabia with an undersea cable across the Indian Ocean, it is expected to run from Saudia Arabia through Jordan to Israel above ground and then back under water via a submarine cable under the Mediterranean Sea to Europe.
The Abraham Accords brokered by the United States, which established diplomatic relations between Israel and the UAE and Bahrain, two of Saudi Arabia's neighbors, played a role in encouraging the Google project, the report said. Saudi Arabia has not yet joined the Abraham Accords, but President Trump said last month he expected the Saudis to join eventually and Saudi sources are publicly talking about the eventuality of Israeli-Saudi peace.
News of the Google project comes on the heels of Prime Minister Benjamin Netanyahu's off-the-radar visit to Saudi Arabia on Sunday where he reportedly met with Saudi Crown Prince Mohammed bin Salman.
HELP ISRAELIS BATTLE CORONA!
Donate to the Corona Emergency Relief Fund. Coronavirus has taken a huge toll on the people of Israel. The poor, elderly and ill are most vulnerable.

Israeli soldiers, security officers and medical care providers operate under great danger and risk to life.

Over 1 million Israelis are out of work. Many cannot make ends meet. We provide financial aid, food, medical supplies and more. Funds are distributed where needed most. The time to act is now!
The post Israel to be Linked Directly to Saudi Arabia with Google's New Fiber-Optic Network first appeared on United with Israel.

United with Israel