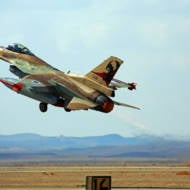 Israel Strikes Terror Forces in Lebanon, Syria After Rocket Attack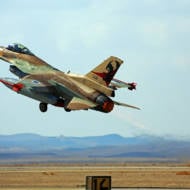 Lebanese terrorists fired rockets into Israel, triggering IDF counter-strikes, which occurred on the same night Israel hit an Iranian weapons cache in Syria.
By Aryeh Savir, TPS
Lebanon-based terrorists fired two rockets toward northern Israel early Tuesday morning. One of the rockets was intercepted by the Iron Dome Defense System and the second rocket fell in an open area inside Israel.
Sirens went off at several locations in the Western Galilee area. No injuries or damage were reported in the attack.
In response, IDF artillery bombed several locations in Lebanon.
The border area has been quiet since and the IDF did not issue any special directives.
The last time terrorists attacked Israel from Lebanon was during Operation Guardian of the Walls in May.
The incident is so far fairly minor in its scope, and therefore it is assumed that a small terror organization, and not Hezbollah, carried out the attack.
Minister of Defense Benny Gantz stated that Lebanon is "responsible for the rockets fired overnight, as it allows terrorists to operate within its territory. Israel will act against any threat to its sovereignty and its citizens, and will respond in accordance to its interests – at the relevant time and place."
"We will not allow the social, political and economic crisis in Lebanon to turn into a security threat to Israel. I call on the international community to take action to restore stability in Lebanon," he added.
Also on Monday night, the Israeli Air Force (IAF) struck targets inside Syria in the Al-Safira area in Aleppo, hitting Iranian weapons caches, the country's state media reported.
SANA news agency that some material damage was caused in the strike.
The Syrian Observatory for Human Rights (SOHR) reported that the Israeli strikes targeted the area of Jabal al-Waha, near the scientific research center and the Syrian regime's defense factories.
The SOHR noted that the targeted site host an Iranian-Revolutionary Guard Corps (IRGC) headquarters, and a base and weapons warehouses which were destroyed in the Israeli attack.
No casualties have been reported so far.
The IDF has remained silent on the reports, as it usually does in these cases.
The last Israeli strike in Syria occurred on June 9, when 11 Syrian regime soldiers and militiamen of the National Defense Forces, including a brigadier general, were killed in an IAF strike on the scientific research center in Kharbat al-Tinah and other military posts and positions in the area in west Homs countryside. The strikes also targeted an ammunition warehouse belonging to the Lebanese Hezbollah, south of Homs city.
Iran and Hezbollah's military build-up in Syria remains a red line for Israel. The IAF has carried out thousands of attacks to thwart the Iranian entrenchment in the war-torn country.
Israeli leaders have repeatedly declared that they will not tolerate an Iranian threat on its northern border with Syria and will take all necessary measures to ensure that such a menace does not emerge.
PLANT FRUIT TREES IN ISRAEL BEFORE SABBATICAL BEGINS!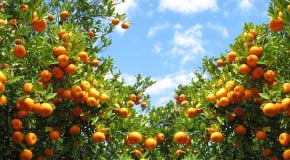 HELP ISRAELI FARMERS PLANT NOW – BEFORE SHMITA!

TIME RUNNING OUT to make the Land even more fruitful while helping Israeli farmers offset financial losses from Covid, Hamas arson fires and the upcoming Sabbatical year.

"…the seventh year shall be a complete rest for the Land…"

"…I will ordain My blessing for you…"
(Leviticus 25:4,21)
CLICK TO PLANT YOUR FRUIT TREES IN ISRAEL TODAY, BEFORE IT'S TOO LATE!
The post Israel Strikes Terror Forces in Lebanon, Syria After Rocket Attack first appeared on United with Israel.
United with Israel