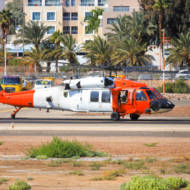 Israel Evacuates Wounded US Soldier After Egypt Helicopter Crash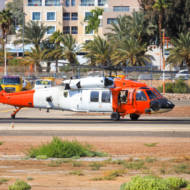 Chopper from the independent MFO peacekeeping force crashed in the Sinai Desert; IDF air rescue unit takes lone survivor to hospital in Israel.
By Yakir Benzion, United With Israel
Eight soldiers, including six Americans, were killed Thursday when a helicopter belonging to an international peacekeeping force crashed in Egypt's Sinai Peninsula, officials said.
The IDF's 669 aerial rescue unit responded to a call for help and evacuated one US soldier who survived the crash, flying him to Soroka Hospital in Beersheba where he was listed in critical condition.
"During a routine mission in the vicinity of Sharm el-Sheikh, Egypt, nine uniformed members of the Multinational Force and Observers (MFO) were involved in a helicopter crash," the MFO said on its website.
"We are deeply saddened to report that eight MFO members were killed; six U.S. citizens, one French, and one Czech. One U.S. MFO Member survived and was medically evacuated. Names are being withheld pending notification of next of kin."
Although Islamist terrorists are very active in the region, the MFO said that "at this point, there is no information to indicate the crash was anything except an accident."
An Israel Air Force statement confirmed that the IDF offered medical assistance to the MFO.
"As a part of the IDF assistance, a short while ago an IDF helicopter carrying elite search and rescue soldiers from IAF Unit 669 evacuated an injured American MFO peacekeeper to an Israeli hospital for medical treatment," the IAF tweeted.
US troops are the largest contingent of the 13-nation peacekeeping force that since 1982 has monitored the Israeli-Egyptian peace accord. The independent force is not affiliated with the United Nations because of objections at the time from the USSR and Syria.
There are currently 452 American troops assigned to the force, with Columbia supplying 275 troops, Fiji 170, Italy 78 and Canada 55 soldiers. Other countries in the 1,154 strong MFO include New Zealand, Australia, Britain, Uraguay, France, the Czech Republic, Norway and Japan.
Following the disaster, the MFO issued a statement saying: "We greatly appreciate the cooperation and support of Egypt and Israel."
US Ambassador to Egypt Jonathan R. Cohen issued a statement saying his embassy was deeply saddened by the deaths.
"These six Americans, one Frenchman, and one Czech epitomized the noble spirit of preserving peace between our partners Israel and Egypt," Cohen tweeted. "Our deepest condolences to their families and the MFO. We will remember their sacrifice and service in the name of peace."
Do You Love Israel? Make a Donation to Show Your Support!
Donate to vital charities that protect Israelis and help inspire millions around the world to support Israel too!
Now more than ever, Israel needs your help to fight – and win – the battle of public opinion.
Anti-Israel bias and boycotts are out of control. Israel's enemies effectively use social media to incite brutal terror against innocent Israeli civilians. Please help us fight back!
The post Israel Evacuates Wounded US Soldier After Egypt Helicopter Crash first appeared on United with Israel.

United with Israel