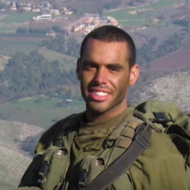 Israel Catches Terrorist Who Murdered 2 IDF Soldiers 10 Years Ago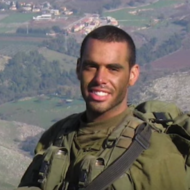 Israel announced it nabbed one of the terrorists responsible for the deaths of two IDF soldiers along the Gaza border.
By Ezra Stone, United with Israel
"This morning I was told of the capture of the terrorist who was involved in planning the murderous March 2010 attack on the Gaza Strip border fence which claimed the lives of Staff Sgt. Ilan Sviatkovsky and Maj. Eliraz Peretz," announced Israeli Prime Minister Benjamin Netanyahu on Sunday.
The soldiers were killed during an exchange of fire with Palestinian terrorists who were placing bombs along the security fence separating Israel from the southern Gaza Strip.
The shooting occurred after IDF troops from the elite Golani Battalion entered the Strip and were attacked with mortar shells and gunfire. An explosive device also detonated nearby.
Four Palestinians terrorists were eliminated in the exchange of fire, but one of them let off a shot that hit a grenade in an IDF soldier's vest, which exploded and killed Peretz and Sviatkovsky.
Peretz's brother, Uriel, was also killed in combat, perishing in Lebanon in 1998. Eliraz had eulogized his brother then, saying, "Sometimes there is a price to pay for the right path. The price of life."
The Peretz soldiers' mother, Miriam, commented after Eliraz's death, "My sons are always at the front because officers go in front. He provided a personal example and he was alerted to give aid, so of course he was the first to do so. He didn't go to die, but went so that I and the people of Israel could live well. My sons died for us all, so that we can walk proud. Eliraz had a gentle soul and a pure soul. He was righteous and pure and a mother could be proud to have such a son."
Following the capture of one of the terrorists involved in the deaths of Peretz and Sviatkovsky, Netanyahu added, "All those who seek [to harm us] should know that even if years pass, the State of Israel will not rest until we settle accounts with the terrorists."
HELP ISRAELIS BATTLE CORONA!
Donate to the Corona Emergency Relief Fund. Coronavirus has taken a huge toll on the people of Israel. The poor, elderly and ill are most vulnerable.

Israeli soldiers, security officers and medical care providers operate under great danger and risk to life.

Over 1 million Israelis are out of work. Many cannot make ends meet. We provide financial aid, food, medical supplies and more. Funds are distributed where needed most. The time to act is now!

United with Israel