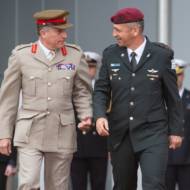 Israel Bolsters UK Alliance with New Military Agreement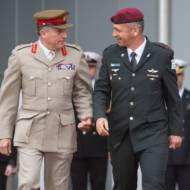 Top IDF and UK commanders met via video link to sign an agreement strengthening cooperation between the two armed forces.
By Yakir Benzion, United With Israel
Israel and Britain have signed an agreement for further cooperation between the IDF and the British Armed Forces that will see the two militaries cooperate in a variety of fields, including training and defense education.
"IDF Chief of General Staff LTG Aviv Kochavi virtually met with United Kingdom Chief of the Defense Staff Gen. Sir Nick Carter yesterday and signed a joint agreement to formalize and enhance our defense relationship, and support the growing Israel-UK partnership," the IDF tweeted.
UK Ambassador to Israel Neil Wigan tweeted that he was "Delighted to announce that UK and Israeli Chiefs of Defense Staff signed a new agreement to further deepen our military co-operation."
The pro-Israel group BICOM, the Britain Israel Communications and Research Centre, reported that most of the agreement is highly classified, but the cooperation will include defense-oriented medical training, organizational design and concepts, and defense education.
Both militaries share common interests in the region. While Israel feels the Iranian threat of "annihilation" directly, Britain is also committed to preventing Iran from achieving nuclear weapons and wants to curb Iran's advanced ballistic missile program.
The British also support countering Iran's proxy armies like the Hezbollah terror group in Lebanon. To that end, the UK deployed warships to the region to help guarantee the safety of international shipping lanes from Iranian threats.
According to BICOM, there is already significant cooperation between Israel and the UK in cyber security, described by a senior UK official last year as a "first-order partnership."
The UK is also impressed by Israel's reputation for having a unique innovation ecosystem, with close interaction between government, military, academia and industry – a model which the UK has sought to emulate.
The British Army hopes to learn from the Israeli experience as it transitions to a more digital army. According to a report last October, the British were given access to Israeli defense contractor Elbit Systems' "Rhino mobile headquarters." The Rhino uses advanced digital technology to link together units in the field and commanders with the best information possible to help achieve results on the battlefield.
The British Army said Rhino helps to "reduce the size of the headquarters, makes it less vulnerable and able to make and communicate decisions faster." Elbit has worked with the UK for years on other applications, such as battle management systems.
Once the coronavirus pandemic ends, both militaries hope to to return to a regular schedule of visits and meetings.
HELP ISRAELIS BATTLE CORONA!
Donate to the Corona Emergency Relief Fund. Coronavirus has taken a huge toll on the people of Israel. The poor, elderly and ill are most vulnerable.

Israeli soldiers, security officers and medical care providers operate under great danger and risk to life.

Over 1 million Israelis are out of work. Many cannot make ends meet. We provide financial aid, food, medical supplies and more. Funds are distributed where needed most. The time to act is now!
The post Israel Bolsters UK Alliance with New Military Agreement first appeared on United with Israel.

United with Israel