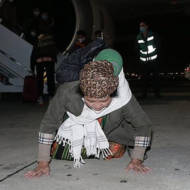 Israel Begins 2021 with Hundreds of Jews Returning from Lost Tribes in Ethiopia, India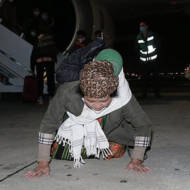 300 Jews arrive from Ethiopia on New Year's Eve, with more expected Sunday from the Bnei Menashe community of northeastern India.
By Yakir Benzion, United With Israel
A group 300 new immigrants from Ethiopia landed Thursday night at Ben Gurion Airport and a small group of Jews from India are set to arrive Sunday as 2021 kicks off with aliyah by Jews from some of the lost tribes of Israel.
"It makes me happy to open the year 2021 in this way," said Immigration and Absorption Minister Pnina Tamano Shata, who was on hand to greet the new immigrants.
Shata herself was born in the Ethiopian province of Gondor, where a large part of the Jewish community was located. She arrivedin Israel in 1984 as part of Operation Moses that brought thousands successfully to Israel, but was cut short when Arab countries found out about it. Shata is the first black woman to be elected to the Knesset and be appointed a cabinet minister.
Considered by some to be members of the lost biblical tribe of Dan, Operation Solomon in 1991 brought another 14,000 more Ethiopian Jews to Israel in 1991, but roughly 7,000 more remained behind and the government has committed to bring them all out withing the coming year with Shata saying another 2,000 are expected by the end of January.
On Sunday five members of the Bnei Menashe community in India are expected to land in Israel, joining a group of 252 who arrived on aliyah two weeks ago. They are part of a 7,000 member community in northern India while some 4,000 Bnei Menashe already live in Israel.
The Bnei Menashe, sons of Manasseh, claim descent from one of the Ten Lost Tribes of Israel who were sent into exile by the Assyrian Empire more than 27 centuries ago. Their ancestors wandered through Central Asia and the Far East for centuries before settling in what is now northeastern India, along the border with Burma and Bangladesh.
Even though they were exiled from biblical Israel, the Bnei Menashe continued to practice Judaism including observing the Sabbath, keeping kosher, celebrating the festivals and following the laws of family purity – all with the dream of eventually returning home to the land of Israel.
The aliyah of the Bnei Menashe is helped by he organization Shavei Yisrael – Returners of Israel – which has been working since 2002 to help the Bnei Menashe reconnect with Jewish practice and bring them to Israel.
"We are happy to start 2021 with the Aliyah of five more Bnei Menashe to the land of their ancestors, the Land of Israel, where they will join their family members who already live here," said Michael Freund, Shavei Israel founder and chairman. "We are confident that 2021 will prove to be a significant year for the continued Aliyah of the Bnei Menashe, as we are planning to bring more than 500 new immigrants from the community to Israel, which is double the number we were able to bring in 2020."
Keep Israeli Soldiers Warm – Send Winter Care Packages!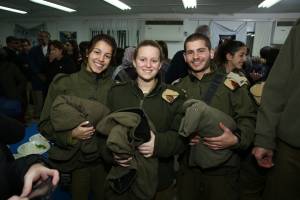 We are honored to thank the young men and women of the IDF who risk their lives every day to defend the citizens of Israel.
Join us in sending winter care packages and personal notes of support to Israeli soldiers who are out in the cold all day.
Warm up a soldier's heart with essential winter wear including fleece jackets. Keep an entire unit warm by ordering 10 packages…
THE SOLDIERS REALLY APPRECIATE YOUR LOVE AND CONCERN!
Click Here to Send Your Gift and Personal Note to Israeli Soldiers
The post Israel Begins 2021 with Hundreds of Jews Returning from Lost Tribes in Ethiopia, India first appeared on United with Israel.

United with Israel