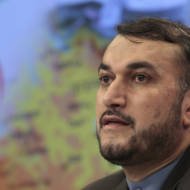 Iran: 'UAE Will Be Engulfed in Zionism Fire'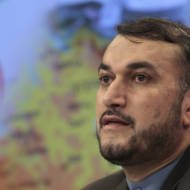 Iran's foreign ministry calls peace agreement a "strategic act of idiocy by Abu Dhabi and Tel Aviv."
By Yakir Benzion, United With Israel
Iran lashed out Friday at the announcement by US President Donald Trump about the "historic" Israel-UAE peace deal announced on Thursday, saying the UAE "will be engulfed in Zionist fire."
Trump said he expects to host an official signing ceremony at the White House in the next three weeks.
Choked by international sanctions for its repeated refusal to comply with UN Security Council resolutions and its record as one of the world's worst abusers of human rights, frustrated Iranian officials vented their anger and frustration at the success of Israel reaching a peace agreement with a neighboring Gulf Arab nation.
"UAE's new approach for normalizing ties w/fake, criminal Israel doesn't maintain peace & security, but serves ongoing Zionists' crimes," tweeted Hossein Amir-Abdollahian, the Iranian deputy foreign ministry for Arab and African Affairs.
"Abu Dhabi behavior has no justification, turning back on the Palestine cause. W/ that strategic mistake, UAE will be engulfed in Zionism fire," Amir-Abdollahian said, posting an image showing a Star of David being deleted into the trash.
Iran's state-run IRNA news agency said the Iranian Foreign Ministry "voiced strong condemnation" of the peace agreement, calling the deal "a strategic act of idiocy by Abu Dhabi and Tel Aviv." Iran refuses to recognize Jerusalem as Israel's capital and as part of its disinformation campaign only talks about Tel Aviv.
A Foreign Ministry statement said "the innocent bloods shed … to free the sacred land of Palestine … will sooner or later take those that betrayed the Palestinian cause by the throat."
Iran called Abu Dhabi's normalizing ties with Israel "dangerous" and warned "the Zionist regime against any kind of meddling in the Persian Gulf region's equations."
However, that threat appears to be empty given that earlier this week the six Arab members of the Gulf Cooperation Council issued a joint statement supported the extension of a UN arms embargo on Iran, a step that is also endorsed by Israel and the United States.
HELP ISRAELIS BATTLE CORONA!
Donate to the Corona Emergency Relief Fund. Coronavirus has taken a huge toll on the people of Israel. The poor, elderly and ill are most vulnerable.

Israeli soldiers, security officers and medical care providers operate under great danger and risk to life.

Over 1 million Israelis are out of work. Many cannot make ends meet. We provide financial aid, food, medical supplies and more. Funds are distributed where needed most. The time to act is now!

United with Israel