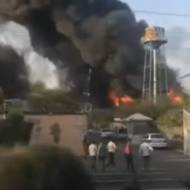 Iran Rocked by Another Mysterious Blast at Regime Warehouse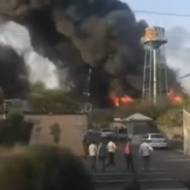 Warehouse was located near several major factories and a storage site for dismantled nuclear equipment.
By United With Israel Staff
Iran was beset with another mysterious explosion and fire on Monday, this time in a state-owned warehouse in the city of Karaj, near Tehran.
Initial Iranian reports claimed the explosion was sparked by an electrical fire in a warehouse that was said to be storing food, appliances and cosmetics. But Western reports said the warehouse was located in an area near several major factories and a storage site for dismantled nuclear equipment.
Iran has been hit with a wave of mysterious blasts, fires, explosions and power failures over the past year at facilities tied to the Islamic Republic's nuclear and energy sectors. The sabotage began shortly after hackers, who were traced back to Iran, unsuccessfully tried to raise the chlorine levels in an Israeli water treatment plant in April, 2020. Although the attack was discovered and foiled, Israelis were shaken to learn that thousands of people could have been poisoned. Had certain fail-safe measures triggered a shutdown, thousands more Israelis would have been left without water.
Most recently, a June drone attack caused severe damage to a centrifuge production facility, also in Karaj. In May, a pair of petrochemical sites were also damaged by mysterious explosions. Iran has not publicly blamed Israel, though it's widely speculated that Jerusalem is behind the sabotage.
Israel and Iran are also reportedly targeting each other on the high seas. A number of Israeli commercial ships have been damaged in attacks which Israeli officials believe were carried out by Iran. On Saturday, a fire broke out on the CSAV Tyndall, a cargo ship traversing the Indian Ocean from Saudi Arabia to the United Arab Emirates. That ship was recently owned by Israeli shipping tycoon Eyal Ofer, but it was sold several months ago. The Tyndall was flying a Liberian flag and did not have an Israeli crew.
Israel is widely believed to be responsible for retaliatory attacks on two Iranian vessels, the Saviz and the Kharg.
In April, the Saviz was severely damaged by a mine in the Red Sea, which the New York Times claimed was placed by Israel. Officially listed as a cargo ship, the Saviz was known to be used by the Iranian Revolutionary Guards for espionage and surveillance.
And in June, the Kharg, a fuel and supply ship as well as the Iranian Navy's largest vessel, sank in the Straits of Hormuz after a fire broke out in its engine room.
Do You Love Israel? Make a Donation to Show Your Support!
Donate to vital charities that protect Israelis and help inspire millions around the world to support Israel too!
Now more than ever, Israel needs your help to fight – and win – the battle of public opinion.
Anti-Israel bias and boycotts are out of control. Israel's enemies effectively use social media to incite brutal terror against innocent Israeli civilians. Please help us fight back!
The post Iran Rocked by Another Mysterious Blast at Regime Warehouse first appeared on United with Israel.
United with Israel